A word from the Chairman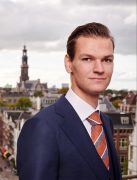 Sefa is the study association of Economics and Business (EB) at the University of Amsterdam. Sefa inspires students to transcend, connecting them to their future. Throughout the year, Sefa accommodates activities for students of all years and disciplines. We offer students an extensive network to explore and develop their capabilities. All Economics and Business students are provided a diverse portfolio of career events, social activities, academic intensification and international congregations. By participating in events, students can broaden their academic, professional and social horizon, which can be of great value in their future careers.
Sefa has 6.000 members of which 350 are active within a committee. Active members are provided the opportunity to participate in challenging committees in a social community. Our active members are spread over more than 40 committees that organise over 125 events every year. By organising such an event, active members gain organisational, communication and teamwork skills. These are practical skills that students do not get taught in the lecture halls.
Furthermore, we offer great advantages for non-active members such as discounts on books and syllabi, even as free participation in our events.
It is a challenging year to be the chairman of this year's board, with the current situation around Covid-19 there is no business as usual. For students it becomes harder to meet their fellow students and friends. We as Sefa, will try our best to organise as many events as possible, conforming the government guidelines, to let you take full advantage of your university experience and I hope that Sefa can make a meaningful contribution to it!
Kind regards,
Timo Mascini
Chairman Sefa board 2020-2021