Skillsweek 2018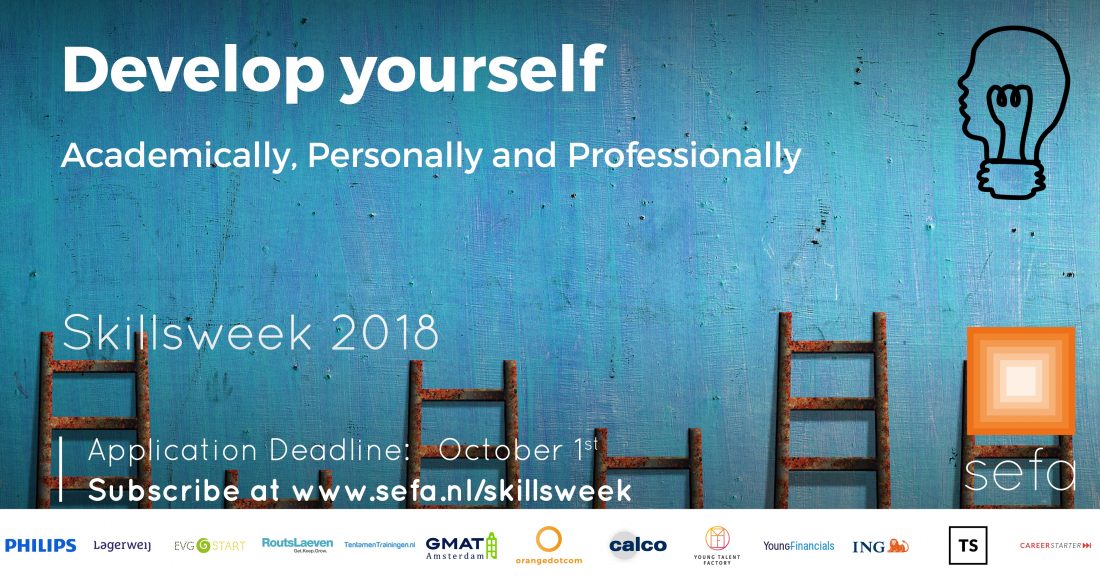 Last year we organised the third edition of Skillsweek and it was a great success! During this 3-day event, over 300 students took the opportunity to develop their Professional, Academic en Personal skills. Workshops provided by different experts gave students the chance to get more out of their skills. For instance, students were taught how to stand out during the job application process, how to get higher grades in less time or how to extend their offline and online network. But this is just a glimpse of all trainings that were held during Skillsweek. Did you miss the event or were you not able to participate in the workshop you liked? No problem! This year students will be given the chance again to develop their skills during the fourth edition of Skillsweek, which will take place the first week of October.
During this event, there will be various workshops including How to write a good thesis, Networking and How to manage job interviews as well as LinkedIn management and GMAT preparations. This workshops will be given by renowned companies such as Phillips and ING.
And don't forget to be present at the drinks on Wednesday and Friday! There you will have the possibility to get in contact with the speakers and the companies they represent in a more direct and personal manner.
Wednesday 3rd of October
9:00 – 11:00 GMAT Introduction Training by GMAT Amsterdam B2.03
This training starts of with a quick general introduction on the GMAT such as the setup of the test, its adaptive character, the skills being tested, and how the scoring is established. We will continue with the main part of the training, which consists of practising and discussing actual GMAT problems from the Quantitative and Verbal section. In the last part of the training we will focus on how to prepare best for the test.
13:00 – 15:00 Ontdek jouw talenten by Young Talent Factory* B3.09
Wie ben jij en wat zijn jouw unieke talenten? De eerste stap in de richting van jouw toekomstige droombaan is zelfinzicht. In de twee uur durende workshop gaan we bij YTF aan de slag met jouw talent en hoe jij jezelf onderscheidt van anderen.
15:00 – 17:00 Personal Branding by Young Talent Factory* C3.01
Leer hoe jij jezelf als merk in de markt kan zetten. Hoe laat jij organisaties kennis maken met jouw unieke persoonlijkheid en talenten? Leer het tijdens deze workshop!
15:00 – 17:00 Job Interview Training by Philips E0.22
Recruiter and Hiring Manager will present at the workshop to share with you what they are looking for in candidates during the interviews, what are the most asked questions and how to best prepare them.
Thursday 4th of October
9:00 – 11:00 E-assessment Intro Training* A2.07
Tijdens de E-assessment training van Careerstarter maak je in twee uur kennis met de werking en inhoud van e-assessments. Deze tests komen bij veel grote werkgevers voor in de sollicitatieprocedures. Tijdens de training worden 3 onderdelen uitvoerig behandeld door middel van twee tests, oplos theorie, en optimalisatie strategie. Zelfs tijdens de 2 uur durende training zien deelnemers al vooruitgang. Meer informatie vind je op www.careerstarter.nl, en natuurlijk tijdens de training!
11:00 – 13:00 How to study efficiently by TentamenTrainingen C1.08
Most students would love to spend more time living their social lives than studying in the library. This workshop will tell you more about efficient ways to study and therefore how to reach that goal! By explaining techniques that train your brain and putting those to practice, you'll gain knowledge of how to study best for your next exams.
12:00 – 15:00 Fundamentals of Web Development by Turing Society B2.08
Coding has never been more relevant and basic web development skills have never made a bigger difference in a young professional's career. Ever wondered how catchy websites are made, what the skill for creating your own page are or just curious? During the 3-hour session we will walk through HTML and CSS essentials and will offer you a hint of how possessing these awesome skills may have a significant impact on your life, career and understanding of technology. Join us!
15:00 – 17:00 'Is studeren nog wel genoeg:
hoe bereid jij je voor op de arbeidsmarkt?' by EVG Start* E1.50
Bij de selectie van de Starters bij EVG kijken we vooral naar de competenties van de kandidaten. We merken dat het voor veel sollicitanten lastig is uit te leggen waarom ze over die competenties beschikken. Wij helpen jou in onze training via een spel je competenties in kaart te brengen. Daarnaast leer je met onze STAR workshop om dit op een goede manier te doen. Zo helpen we je om later ons, of andere werkgevers natuurlijk, te overtuigen van het feit dat jij analytisch, pro-actief en/of een teamspeler bent. Bovendien leren we je in onze workshop ook om anderen op een goede manier feedback te geven.
Friday 5th of October
9:00 – 11:00 Interview skills training: how to prepare for the perfect job interview?
By ING B2.03
During this training we will elaborate on how to prepare for a job interview and how to handle the famous STAR methodology used by most of the companies. The STAR methodology is used by interviewers to check tangible examples of behaviour and competences by asking a set of questions. The starting point is that recent past behaviour is a good predictor of future behaviour. Looking forward to meet you and put theory and practice together!
9:00 – 11:00 Introduction to Online Marketing by Orangedotcom B2.07
This training will give an introduction to online marketing – How do we define an online strategy, what does the customer journey look like in online perspective and which online marketing channels do we use in each step of the customer journey.
11:00 – 13:00 Everything you always wanted to know about how to write a good master thesis by UvA professor Bernardo Lima C3.06
Are you a master student or in the last year of your bachelor? This year you will write your thesis, but what is the best way to write a thesis and where should you start? During this workshop we will discuss some important tips and strategies for writing a good thesis.
11:00 – 13:00 Workshop security/hacken by Calco* E0.14
Tegenwoordig is bijna wekelijks in de krant te lezen hoe grote organisaties hun informatieveiligheid niet op orde hebben. Is het echt zo moeilijk om je te weren tegen hackers? En is het dan zo gemakkelijk om iemand te hacken? Helaas is het antwoord op beide vragen vaak 'ja'. Gelukkig geldt ook hier het aloude cliché: begin bij jezelf. Wat is de beste manier om je te wapenen? Door in ieder geval te weten hoe je gehackt kunt worden! In deze workshop leer je hoe hackers te werk gaan. Zo leer je onder anderen hoe je phishing mails stuurt, inbreekt op een WiFi-netwerk en een Android telefoon hackt. Je leert begrijpen hoe een hacker te werk gaat en waar zich kwetsbaarheden voordoen. Het uiteindelijke doel is leren hoe je hacks kunt vermijden en bij je (toekomstige) werkgever kwetsbaarheden kunt spotten.
13:00 – 15:00 LinkedIn Training by Young Financials   B3.07
Through several exercises you will immediately work on your own LinkedIn profile. At the end of the workshop your profile will be a lot stronger, which will help you get in contact with interesting companies. This brings you one step closer to your dream job! – For this training it is useful to bring your laptop and already have a LinkedIn account.
15:00 – 18:00 Mastering the art of negotiation by Routslaeven B3.03
This workshop will provide a challenging practice situation and feedback based on seven principles. This feedback will also be connected to real-life experiences. Do you want to learn the valuable competence of negotiating based on the Harvard approach? Apply now for this training and develop the life-long skill of negotiation.
15:00 – 18:00 Networking skills by Lagerweij* B2.08
Zolang jij geen kluizenaar bent, dan heb ook jij een netwerk. Maar hoe kan jij daar het uiterste uit halen? Als jij jezelf deze vraag ook wel eens stelt dan ben je bij de workshop Networking skills aan het juiste adres. We gaan samen aan de slag met een breed scala aan thema's variërend van communicatievaardigheden tot personal branding. Maar uiteindelijk, leer je het meeste van simpelweg doen!
* are workshops in Dutch