The Career Week is a five day campus recruitment event aimed at matching students of the Faculty of Economics and Business from the UvA with some of the top companies in their field. Hosted by study association Sefa, we welcome all 6000 Sefa members for a unique introduction into their future careers. Career Week includes days revolving around Finance, Economics, Business, and Consultancy respectively. This year we introduce a new day, Digital Day. A day about digital businesses such as E-commerce, online platforms and all different aspects of using data analytics. During and at the end of each day, students will have the opportunity to further meet recruiters through diverse and unique activities such as cases, presentations, high wines, lunches, dinners, and much more. Through this unique event, we strive to connect UvA students with recruiters in their field of choice, making the first strides in the direction of their future career with this personal interaction experience.
Career Week 2018 will take place from the 26th of November till the 30th of November.
Your future, Your event. Career Week.
Theme Days
The Career Week is a five-day event with a different theme each day, derived from study tracks and relevant labour market sectors.
Companies
Click the company logo for more information
Activities
Click on the activities to read more about them and the participating companies.
Formal
Informal
Important information
FREE Lunch will be provided by the Career Week when you participate in more than one activity on the same day.
Daily networking drinks
We welcome each participating student and company at the end of each day for a network drink. During this network drink you are able to chat with the recruiters of other companies participating that day!
About us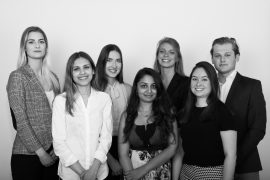 Testimonials
Contact
Careerweek@sefa.nl
Study Association Sefa
Roetersstraat 11 (Room E0.02)
1018 WB, Amsterdam
+31 (0)20 525 04 24