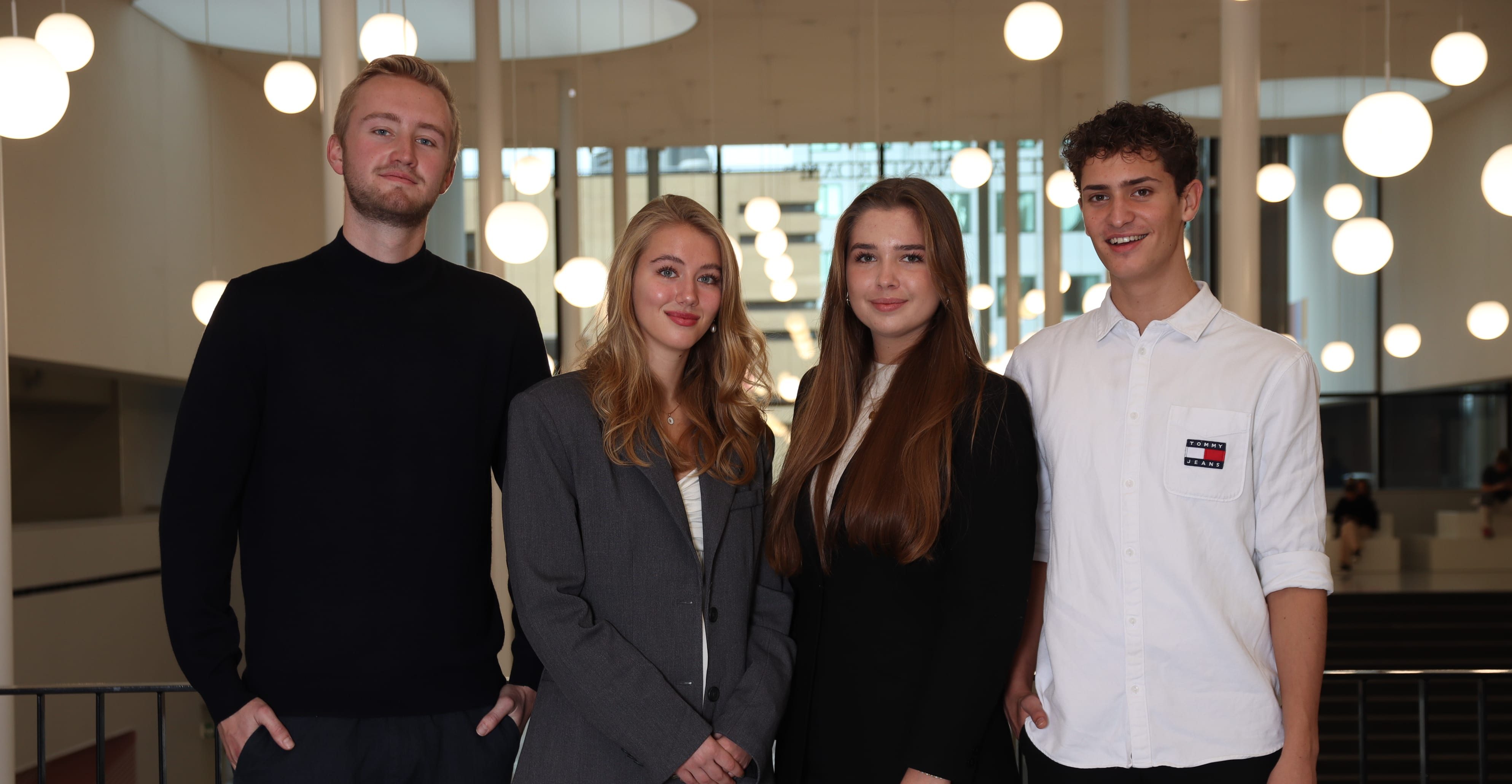 As Good As New
The As Good As New committee is a perfect introduction committee for both Dutch and International first-year students from the Faculty of Economics and Business. With approximately 30 other As Good As New'ers you will organise events and drinks for your fellow students. This committee is a really fun way to start your student life and gain experience in organising events at the same time.
The committee is supervised by four second-year students who will make sure that you will have the best year ever! Together with the whole As Good As New committee you will do many social activities, like having dinner, going out, going on a trip, and participate together in all the Sefa activities. Next to this, you will join a sub-committee of your choice, for example the Grand ball committee, Winter Sports or the Career Month Junior. Furthermore you will help our secretary in the Sefa store. The as Good as New committee is the perfect way to combine your social life with gaining professional experience during your first year.
What can I learn as a committee member
During your Committee you will learn how to set up projects, organise events and gain some teamwork experience. Depending on your choice, you can develop your professional and social qualities. But the As Good As New committees will be divided into different committees.
As Good As New Committees
The following committees are open for As Good As New members:
The As Good As New Trip & Activities

: Brainstorm about the perfect location for the next As Good As New Trip, make it an unforgettable weekend for all As Good As New members. And organise several social activities throughout the year that are exclusive for As Good As New members!

The Social Committee I and Social Committee II

: Organize monthly drinks, the Faculty Ball, a beerpong tournament and other fun events for Sefa's active and non-active members.

Active Members Events: Every year at the end of the year,  an active members day are organised. Find a great location and organise an activity. Make sure the next Active Member Day will be legendary!
The Introduction Camp: Do you want to organise this camp for next year's new students? Then you can apply for the Introduction Camp committee and make sure they will get an introduction camp they will never forget.
The Career Month Junior: Organize a Career Month designed for first year students, during which they get in contact with business for the first time and find out which specialization is of their specific interest.
The International Student Committee: For the very ambitious first year students, we offer the possibility to join a more challenging committee in the form of a junior membership, during which you will gain practical skills in a rapid pace.
The Marketing Team: By designing promotion material, taking photographs during events and providing promotional support, you will help the Marketing Officer of the Board.
The Almanac committee: Develop your creative skills, make sure that you know all the ins and outs of Sefa and try to make this year's Almanac again a bit better than last year's!
Sefa Wintersports Committee: Organise the coolest week of the year. Together with your committee you will arrange a week in the snow for all your fellow students
Sport Committee: The Sports Committee is responsible for organising different sport tournaments and also the yearly 'Batavierenrace'.
Sefa Gala Committee: The Grand ball is the most glamorous event of the year. Look for the perfect location, find a DJ and it will be a great party!
Skillsweek II: Organize a week full of workshops, training and other activities to help your fellow students develop their skills and capabilities.
Information
| | |
| --- | --- |
| Hours per week | 5 |
| Committee period | September to June |
| Committee size | 36 |
| Deadline | 12th of September 2021 |
| Dutch Required | No |
Committee Positions
The as Good as New committee is the perfect way to combine your social life with gaining professional experience during your first year. You will organise an event, help in the Sefa store and of course do many activities and trips togheter
As an As Good As New mentor, you are responsible for promoting the AGAN amongst first years EB students during the introduction period. After this, you interview and select the 36 students to join AGAN and will be organising activities and a trip!
Current Committee
Member
Luna-Maria Teschauer
Member
Constantin van Krogh
Member
Sylvia van der Vliet
Member
Geertje van Meulen
Supervisor
Minnemijn Kooi