Something on your mind? Talking about it helps! At @ease you can simply walk in or chat online: anonymously, without an appointment, and for free. We help young people from 12 to 25 years old.
Talking to @ease is always: free of charge anonymous without a waiting list without obligations actually it is just @ease
Talk about anything you're stuck with
Many young people talk to us about stress, loneliness, depression, insecurities, drug abuse, an unsafe home situation or something else. Taking the first step to talk about your problems is quite difficult for most people. You feel like you need to solve it yourself or you don't dare to talk to friends or family about it. It can be comforting to talk to a stranger without feeling any obligations. That is possible at @ease: we are happy to listen to you and your story is safe.
How does it work?
You don't have to make an appointment at @ease. You can just walk in for a conversation or chat online. We do not keep a record of the conversations and you don't need permission from your parents. Would you rather have someone join you? No problem, you can also take someone with you. The conversation can take as long as you need. Everything is possible. If you haven't been able to discuss everything yet, you are more than welcome to come back as many times as you like.
Our team
We have a lot of youngsters who volunteer at @ease. They chat with you or are present for a personal conversation at one of our locations. Many of our volunteers volunteer because they want to lend an ear to others. Some volunteers personally know how it feels when you walk around with certain problems or psychological complaints. All our volunteers are trained to listen to you or to think along with you if you need it.
Sometimes your problems are a bit bigger that you may need more help. That is why there is always a healthcare professional (for example a psychologist or a youth doctor) present at @ease. He or she can guide you in finding more support. Of course, you decide and we don't do anything without your permission.
---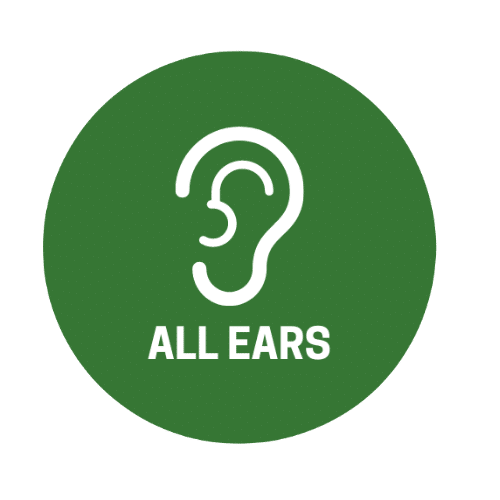 What is All Ears?
All Ears is an initiative for UvA students, by UvA's psychology students. You can call All Ears when you are in need of a listening ear, or if you just want to have a nice chat with a fellow student. They are honestly; all ears. Maybe you want to talk about stress for an upcoming exam, or perhaps they just went through something which you want to discuss anonymously.  At All Ears, you get a psychology student's full attention. ​
Our goal is to lower the bar to look for help as much as possible. We hope to prevent the development of larger, more serious mental issues. By doing so, we wish to contribute to a healthier society in a quick and accessible way.
Welcome to the team of All Ears. All students who volunteer for All Ears are psychology students of the University of Amsterdam, second year or higher. The team consists of +/- 40 volunteers, and is a very diverse group of people, from all over the world. Without their enthusiasm and effort, this project wouldn't be possible!
The Relatablog
Ever felt like you were the only one struggling with a certain problem? Say no more. For The Relatablog, students write about a wide range of subjects they struggle with. Hopefully, you'll realize you are never alone.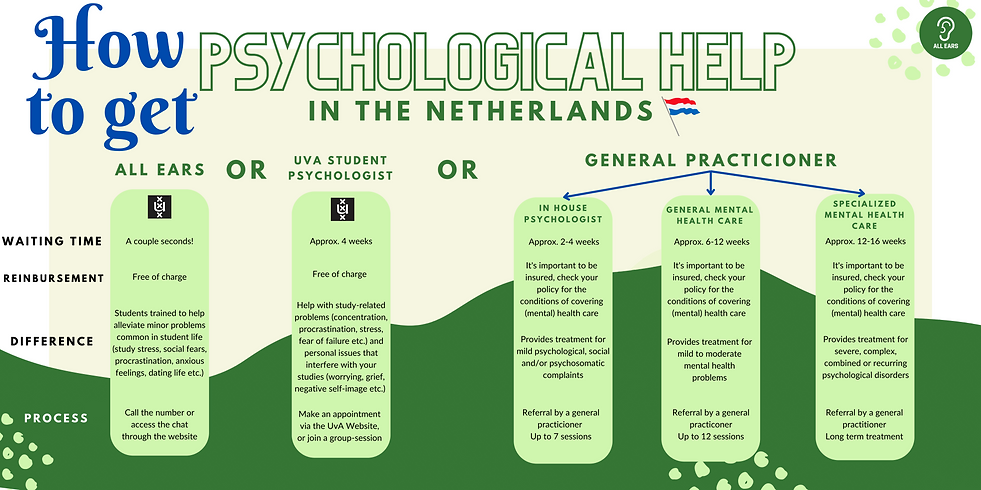 Helplines and Resources
When it comes to seeking help or resources on specific topics, it's important to remember that there are many different organizations and groups out there that can offer assistance. In addition to All Ears or the University of Amsterdam (UvA), there are several other valuable resources available in the Netherlands for specific topics. Below you can find some of the most important ones. In doubt whether you want to get in touch with them? Feel free to chat or call with us about any of these resources.​
Please note that the following are merely suggestions and should be used at your own discretion. Kindly be aware that we are not affiliated with any of organisations mentioned.
Sexual Assault Center
Did you experience sexual assault? Or did you experience online sexual violence? Do you need help or do you have questions? The CSG can help and are here for you day and night. You can reach them by telephone 24 hours a day on 0800-0188.
113 Suicide Hotline
Thinking about suicide want to talk about this? You can chat or call to 113 free of charge and anonymously. The helpline is open 24/7.
You can reach them on: 0800-113
Note: the crisis phone number is only available for people calling from the Netherlands. If you need help outside the Netherlands, you can reach them via chat, or call the national crisis hotline.
Domestic Violence Center
The Domestic Violence Center (Veilig Thuis) is there to help anyone, young and old, who is affected by domestic violence or child abuse.
Would you like advice or do you need help for someone or yourself?
You can reach Veilig Thuis on their free national helpline: 0800-2000.
Center for Addiction
Jellinek provides help for almost any kind of addiction. They can answer every question you have about the risks of alcohol, drugs, gaming, and gambling.
You can find information about treatment and help on their website. Need immediate help? You can reach them on: 088 505 1220
Police Netherlands
If you are in an emergency and require urgent police assistance, you should always call 112.
For non-emergency matters that still require police assistance, call 0900-8844.
If you have to call the Dutch police from abroad, you can use +31 34 357 88 44.
---

English counseling is not something we can provide BUT many of our counselors do speak English. So we do not advertise this, as we cannot guarantee it but it's definitely possible to start a chat and ask for support in English. 
— Please find the German version below —
Who we are
Representing krisenchat, we are Jan Wilhelm, Julius de Gruyter, Kai Lanz, Hans Raffauf, Iris Lanz, and Melanie Eckert. Available 24/7, our chat is there to help young people in need cope with their concerns and problems. It's easy to get in touch with us and doesn't cost anything. We are particularly concerned to reach young people who have never sought help before. Our aim is to prevent them from falling ill without anyone coming to their assistance.
Our concept
We stay in close contact with you during counseling. We draw on evidence-based approaches and join with you to assess the situation in your family and circle of friends. Together we consider the things you can do to help yourself. And we draw on the experience we acquire with you and others in online and chat counseling. We have consulted with experts and the police to decide what to do when things get urgent—for instance if you are in imminent danger or have suicidal thoughts. So we always know how to proceed.
Our content on Instagram, TikTok, YouTube, and our Oasis provides educational information on mental health. We want to help people take you and your problems seriously instead of labeling or judging you. Our proprietary chat platform is upgraded continuously. So we have the best equipment to offer advice.
We can provide targeted advice to children and young people thanks to our network. To do so, we collaborate with clinics, counseling centers, doctors, and youth welfare offices.
Our approach
We remain aware of your cultural background and family history and respect your particular differences. We counsel you, regardless of your gender, religion, or culture. We listen, take you seriously, and accept you just the way you are. We examine the ways you can help yourself and look for solutions that fit your needs. We offer immediate assistance with urgent problems. But bear in mind that we cannot counsel you over extended periods or take the place of therapy.
Privacy
Data protection and transparent procedures are important to us. But it should still be easy for you to make contact with us. We have therefore prepared an extensive privacy concept for our services. It is overseen continuously by a data protection expert. We regularly commission people who do not work for us to audit the security of our platform.
Wenn wir dich beraten, bleiben wir in enger Verbindung mit dir. Wir stützen uns auf wissenschaftliche Erkenntnisse und schauen uns gemeinsam mit dir die Situation in deiner Familie und in deinem Freundeskreis. Zusammen überlegen wir, welche Möglichkeiten du hast, damit du dir selber helfen kannst. Und wir nutzen die Erfahrungen, die wir und andere in der Online-Beratung oder bei der Beratung per Chat gesammelt haben. Gemeinsam mit Expert:innen und der Polizei haben wir überlegt, was zu tun ist, wenn es dringend wird – zum Beispiel, wenn du in großer Gefahr bist oder zuizidale Gedanken hast. So wissen wir immer genau, wie wir vorgehen müssen.
Durch Content auf Instagram, TikTok, Youtube und unserer Oase klären wir über wichtige Themen rund um die psychische Gesundheit auf. Wir möchten dazu beitragen, dass man dich mit deinen Problemen ernst nimmt, anstatt dich in Schubladen zu stecken oder zu verurteilen. Unsere eigens programmierte Chat-Plattform wird ständig weiterentwickelt. So können wir bei der Beratung immer die beste Technik nutzen.
Dank unseres Netzwerks können wir Kindern und Jugendlichen zielgerichtet beraten. Dazu arbeiten wir mit bekannten Kliniken, Anlaufstellen, Ärzt:innen und mit der Kinder- und Jugendhilfe zusammen.