Information Session Amsterdam Career Days Committee 2023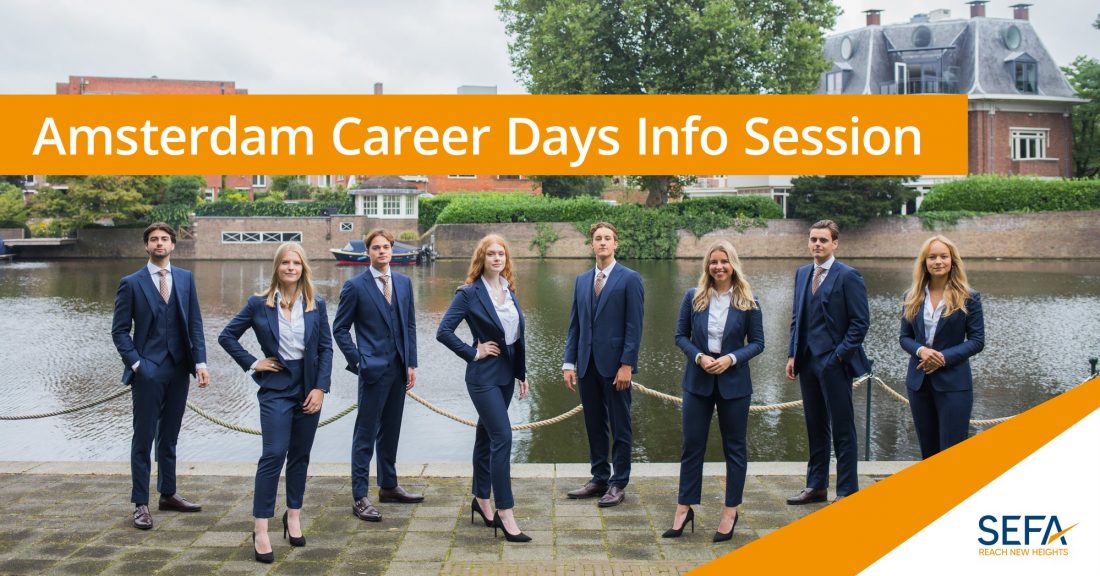 The Amsterdam Career Days is a five-day career event for students who are orienting for their future career. Thanks to the collaboration between faculty associations Aureus (VU University Amsterdam) and Sefa (University of Amsterdam), more than 2000 students with different backgrounds are reached every year. It is the biggest career event of its kind in Amsterdam, focusing on students with a background in Economics, Business Administration, Econometrics, Finance and Accounting. It offers students the possibility to get to know leading multinationals, non-profit organisations and other respected companies.
Students are able to get a good impression of the attending companies by means of presentations, cases, individual meetings and workshops, as well as during a more informal setting such as a lunch, dinner, network cruise or drink.
As a committee member, you will learn how to act within a professional environment and acquire interesting companies. The budget needs to be managed well and a marketing campaign has to be developed and implemented in order to attract all ambitious students of both the UvA and the VU. As a committee member of this career committee, you gain relevant practical experience that will provide you with a head start when you will be standing at the beginning of your future career one day. This is the opportunity to distinguish yourself from other motivated students!
The applications open on Monday the 17th of January.
If you have any questions, or you might be interested and want to learn more about this committee, attend the online information session on the 24th of January, from 19:00 onwards.
https://vu-live.zoom.us/j/99682168977?pwd=em52aHdManVZS01uQ1pQK29WdkRBQT09 \
Meeting ID: 996 8216 8977
Passcode: 287041