Sefa Study Trip 2020: Shanghai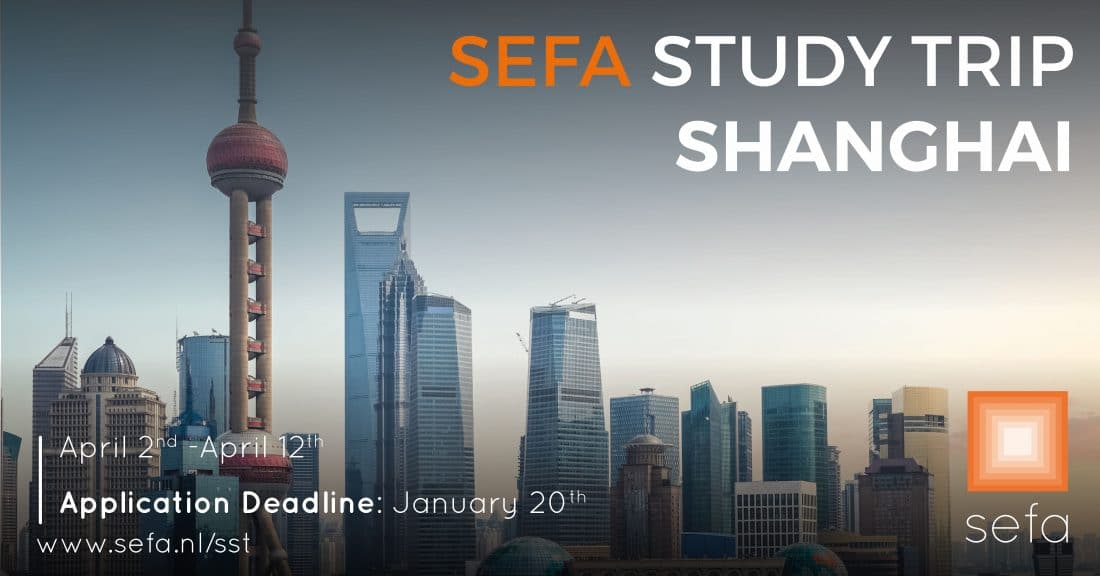 You can apply by filling in the form below!
This year's study trip takes us to a city that never sleeps, Shanghai, China. The economic capital of China is a city at crossroads where old meets new. Iconic heritage sites and looming skyscrapers converge into the horizon dotted with tiny shops selling Shanghainese delicacies squished between a myriad of modern malls, elegant cafes and buzzing clubs.
It is one of the cleanest and greenest cities in China. Simultaneously, it maintains its reputation as the economic capital and ignites an entrepreneurial spirit being the birthplace and the home of several prominent businesses and their headquarters, financial institutions and startups. Special economic opportunities have grown rapidly in Shanghai backed by the government and esteemed business players creating a business-oriented atmosphere inculcated in the soul of the city. 
The accommodation of this year's study trip is in the heart of Shanghai's bustling urban centre, the Bund. It features a lovely, broad promenade running down the Hunagpujiang river perfect for calming morning and evening strolls. It also houses the former headquarters of the Hong Kong and China Banking Association with its splendid Cupla, the harbour office and bell tower, the magnificent old Peace Hotel and the Bank of China all built in Gothic, Romanesque, Baroque and Neoclassical styles. Malls carrying prominent brands, highly rated restaurants, and Huangpu Park are also an absolute treat to the senses. 
The 10 day trip to Shanghai from 2nd April to 12th April 2020 will be a memorable experience including interactive company visits, engaging outdoor activities and fun club nights. We'll also meet with UvA alumni that are currently living in Shanghai to learn from their experiences.
*We will hold information sessions on the 13th of January at 18:00 in REC C1.08 for more details about the price of the trip, application process and more.*
This event is only for second year, third year and masters students.
Participating companies: Philips, ING, Rabobank, KLM, Shanghai Jiao Tong University and a carefully chosen mix of interesting startups. 
Fill out the application form and submit your CV and motivation letter to participate! We will invite the most motivated candidates for an interview.
Price: €600,- (excluding travel visa)
Price includes:
Flight
Accommodation
Breakfast
Transportation to company visits
Some meals & activities
Application deadline: 20th January 2020
In case you have any further questions, please feel free to contact us anytime at: studytrip@sefa.nl
You can apply by filling in the form below!
Please login to apply for this trip!