A word from the Chairman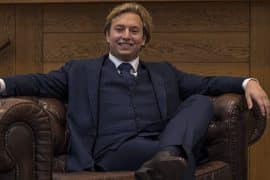 Sefa is the study association of Economics and Business (EB) at the University of Amsterdam. Sefa inspires students to transcend, connecting them to their future. Throughout the year, Sefa accommodates activities for students of all years and disciplines. We offer students an extensive network to explore and develop their capabilities. All Economics and Business students are provided a diverse portfolio of career events, social activities, academic intensification and international congregations. By participating in events, students can broaden their academic, professional and social horizon, which can be of great value in their future careers.
Sefa has 7.000 members of which more than 400 are active within a committee. Active members are provided the opportunity to participate in challenging committees in a social community. Our active members are spread over more than 40 committees that organise over 125 events every year. By organising such an event, active members gain organisational, communication and teamwork skills. These are practical skills that students do not get taught in the lecture halls.
Furthermore, we offer great advantages for non-active members such as discounts on books and syllabi, even as free participation in our events.
Sefa has had a special place in my heart from the moment I walked into the association three years ago. I believe that Sefa complements our studies by developing so many skills needed for later life experiences. It does so for all of its members through programs that strengthen social interaction, international experiences, academic debate, and future career development. I started my Sefa journey as an As Good As New member and helped organize the introduction camp. Subsequently, I decided to become an AGAN mentor to give back the same experience to the new generation. Afterwards, I became the acquisition officer for the Amsterdam Career Days, whereby I worked together with a highly ambitious team towards this incredible event. After three years of continuous involvement, I am still not ready to leave Sefa behind me and I am more motivated than ever to make this an unforgettable year.
The coming year is extra special for Sefa. The lustrum sparked reflection on the association's past role. In that reflection, it is paramount to set clear goals for the future. I am confident that we can put a year filled with Corona in the past, and we can be among the members again to celebrate 101 years of Sefa. Together with Mark, Laura, Dorotea, Anton, Isa and Veronika, we will direct Sefa in the coming year. I am certain that this group of people can bring Sefa further in the future and reach new heights together with all the members. We are incredibly excited about this opportunity and are honoured to take over the responsibilities that come with this task. We cannot wait to start working with all the active members to continue the Sefa legacy and set a course for another 100 years of prosperity for this beautiful association.
On behalf of the 101st Sefa board,
Kind regards,
Damian Pronk
Chairman Sefa board 2022-2023