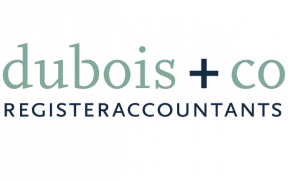 Aangenaam kennis te maken! Dubois + Co. Registeraccountants is een middelgroot Amsterdams
accountantskantoor met mooie audit-opdrachten bij maatschappelijk betrokken klanten. Vanwege onze
betrokkenheid zijn collegialiteit en medezeggenschap binnen onze organisatie vanzelfsprekend.
Wij zoeken talentvolle studenten accountancy of bedrijfseconomie die de maatschappij een warm hart
toedragen.
Het speerpunt van ons HR-beleid is persoonlijke ontwikkeling. Wij brengen samen jouw talent, ambitie en
leerpunten in kaart. De focus ligt daarbij niet primair op datgene wat ontbreekt of beter kan, maar juist op
jouw sterke kanten. Wij hebben plaats voor collega's die een loopbaan als register accountant ambiëren én
zich als een vis in het water voelen in een team van circa 45 professionals die hun vak serieus nemen.
Wij nodigen jou van harte uit om langs te komen voor een kop koffie of thee op ons prachtige kantoor in
Amsterdam Oud Zuid. Neem ook eens een kijkje op onze website www.dubois.nl en lees de persoonlijke
verhalen van onze collega's. Graag tot ziens!
Activity 
Lunch – Finance day – Monday 12:30 – 14:00