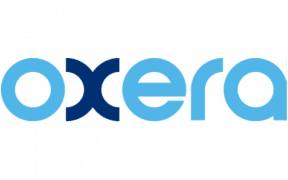 *Open for Internationals*
Oxera is one of Europe's leading microeconomic and finance consultancies. We advise companies, policymakers, regulators and lawyers on economic and finance issues connected to competition, finance, regulation, state aid and litigation, in sectors that run the gamut from utilities to financial services, via the film industry, IP and high-tech, and many more. Established in 1982, we have been doing this for more than three decades, gathering deep and wide-ranging knowledge as we expand into new sectors. We explain complex economic and finance issues in plain terms and have a reputation for credibility and integrity among those we advise.
Today we have offices in Amsterdam, Berlin, Brussels, London, Oxford, Paris and Rome, and are able to advise our international clients in a highly flexible way, including providing advice in several languages besides English.
Every question that we are asked is different, which is why one-size-fits-all analysis, however rigorous, is not enough. The insight we provide to our clients comes from never tiring of thinking harder each time; a continual readiness to use innovative approaches; and a realisation that you have to look beyond the narrow confines of any given subject to understand the bigger picture of which it is always a part. If you have a business-critical question about anything to do with competition, financial, regulatory or quantitative economics, we can provide a compelling answer.
Working at Oxera means contributing to projects from day one. You'll be part of the team, working with some of the brightest and most experienced minds in the industry. At Oxera, we value a good work–life balance and diversity of background and thought. You'll need to bring exceptional technical skills, a strong team ethic and the intellectual curiosity to get to the heart of the issue.
In addition to the permanent graduate positions, we are offering the following internships:
Summer Internships: 10 – 12 weeks – Amsterdam, Berlin, Brussels, London, Oxford, Paris and Rome offices
Term-time Internships: 3 – 4 months – Amsterdam, Berlin, Brussels, London, Oxford, Paris and Rome offices
Long-term Internships: 4 – 12 months – Brussels and UK offices
We provide all internships with a view to offering permanent Analyst positions. Once the internship is complete, many Interns start their permanent post immediately or return further to the completion of their studies. The ideal candidate will have (or will be working towards) a postgraduate degree in Economics, Econometrics or Finance with a solid background in microeconomics. Knowledge of programming languages such as SQL, R and Python would be advantageous. We are looking for candidates who can demonstrate an ability to build client relationships and manage projects. As well as having excellent written and spoken English, we are especially keen to hear from people with fluency in a second European language, particularly Dutch, French, German or Italian.
Activity
Case – Economics day – Thursday 09:30 – 12:00
Individual Interviews – Economics day – Thursday 13:00 – 16:00