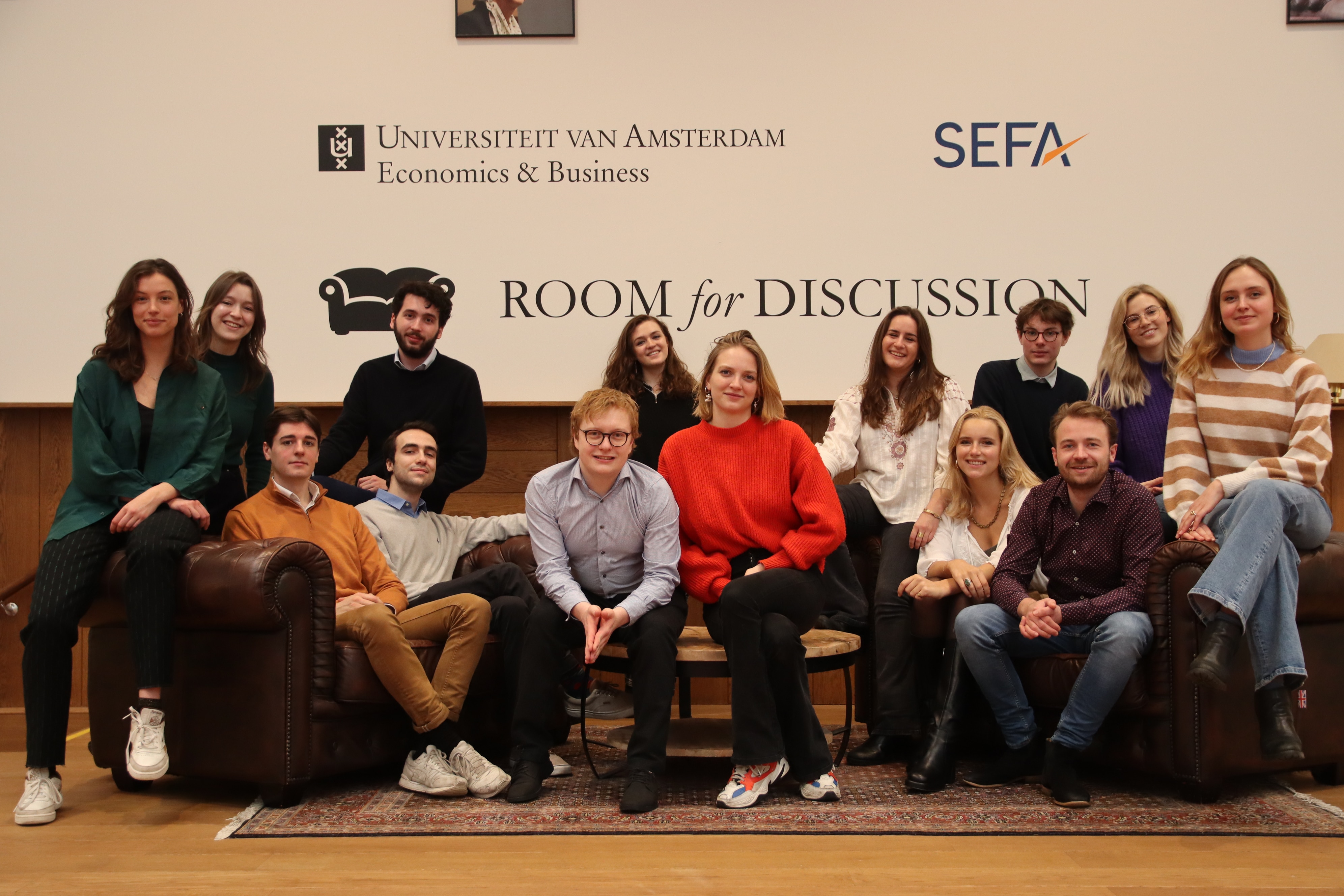 Room for Discussion
Room for Discussion is the platform of Study Association Sefa and the Faculty of Economics and Business that organises weekly interview sessions. Almost every week during lunchtime, professors, entrepreneurs, politicians, CEOs, journalists and other guest speakers will take their seat on our characteristic Chesterfields, ready to debate on interesting economic topics and actualities. The Room for Discussion podium is situated in the central hall of the E-building at the Roeterseilandcomplex of the University of Amsterdam. The weekly interview sessions are open for everyone.
What can I learn as a committee member?
As a member of Room for Discussion you are trained to become an all-rounder. The first step is to come up and plan the interviews with relevant names from the business, politic or academic environment. Afterwards you prepare the interviews together with another committee member. You read for a period of three week everything about this topic or person, prepare a plan and have meeting with the critical committee to optimise the structure of the interview.
Besides the content you also learn the practical side. You will learn the answer to the questions like: What does a minister have for lunch? How do I invite an international CEO to come to the Netherlands and how to promote an interview through online and offline channels to assure that students from all of the Netherlands will visit the interview sessions.
Testimonial
Joaquin Villa-Garcia, Chairman Room for Discussion 2020-2021

 


"Room for Discussion is a unique opportunity for students to ask the necessary critical, thought-provoking and perhaps controversial questions to professionals at the top of their respective work fields. Unequivocally, this also entails a great responsibility for the committee members who must be at the forefront of economic and political debate. Additionally, the committee must continuously learn to work as a cohesive unit, something very instructive in terms of organizational skills. For any student, this platform would prove to be a tremendously educational experience, not to mention a great time."

 


Information
| | |
| --- | --- |
| Hours per week: | 12-16 |
| Committee period: | Variable |
| Size of the committee: | Variable |
| Recruitment period: | Variable |
| Dutch required: | No |
Committee Positions
As interviewer at Room for Discussion, you are responsible for attaining and executing interviews with interesting guests on a variety of topics. Furthermore, you are actively involved in arranging interview sessions and providing feedback.

Essential skills: communicative, critical, teamplayer, proactive
As a Marketing Officer you will be responsible for managing the social media, creating the marketing content such as banners and flyers, and maintaining contact with the Uva and Sefa.

Essential skills: creative, teamplayer, proactive, organised
Current Committee
Rifka Roos
Chair & Interviewer
Angus Kerr
Chair & Interviewer
Benjamin Koponen
Interviewer
Patrick Blaszczok
Interviewer
Marios Triantafyllos Afrataios
Interviewer
Sofiya Tryzub-Cooke
Interviewer
Marios Afrataios
Interviewer
Ella Otterbeck
Interviewer
Morwenna Heemstra
Interviewer
Veronika Cherkasova
Interviewer
Annalea Radzwill
Interviewer
Elias Marseille
Interviewer