Batavieren Race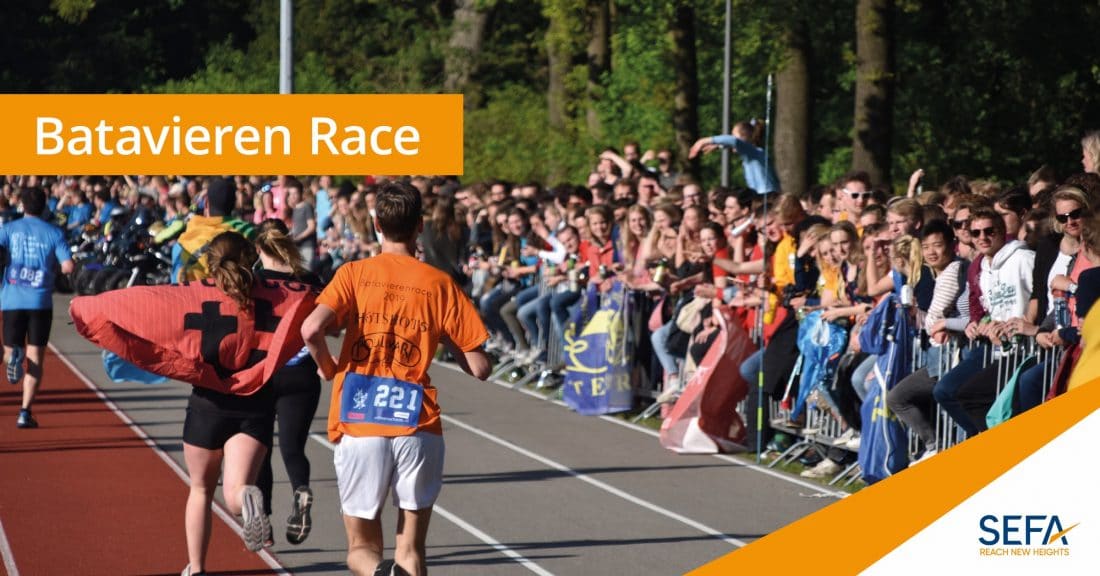 Sign up through the form below
The sporting event of the year is taking place at the end of April, and you have a chance to take part! The Batavierenrace has even earned its place in the Guinness Book of Records thanks to the enormous number of people participating.
The total distance of the race will be 175 kilometres, which is divided into 25 different stages. The race starts on Friday 29th of April 2022 in the evening from the centre of Nijmegen. From there, the runners go through Germany, the Achterhoek, and will end the next day at the Oude Markt Enschede.
After the finish, the biggest yearly student party of the Benelux will take place on the campus of Universiteit Twente, with more than 13.000 students divided between different clubs and music styles, to celebrate with your team and other runners!
If you are interested, let us know through the form below! Any questions? Contact sports@sefa.nl
You can sign up for the following distances:
Night shift
Male, 6.3 km
Male, 7.4 km
Male, 7.7 km
Female, 4.9 km
Male, 10,0 km
Male, 7.8 km
Male, 7.3 km
Female, 6.7 km
Female, 5.1 km
Morning shift
 Male, 5.5 km
Female, 6.0 km
Female, 3.7 km
Female, 7.8 km
Male, 7.6 km
Male, 9.3 km
Male, 6.4 km
Male, 3.5 km
Afternoon shift
Male, 8.0 km
Male, 7.2 km
Female, 6.0 km
Male, 6.2 km
Male, 10.7 km
Female, 7.5 km
Female, 7.7 km
Male, 7.7 km