Board Information Drinks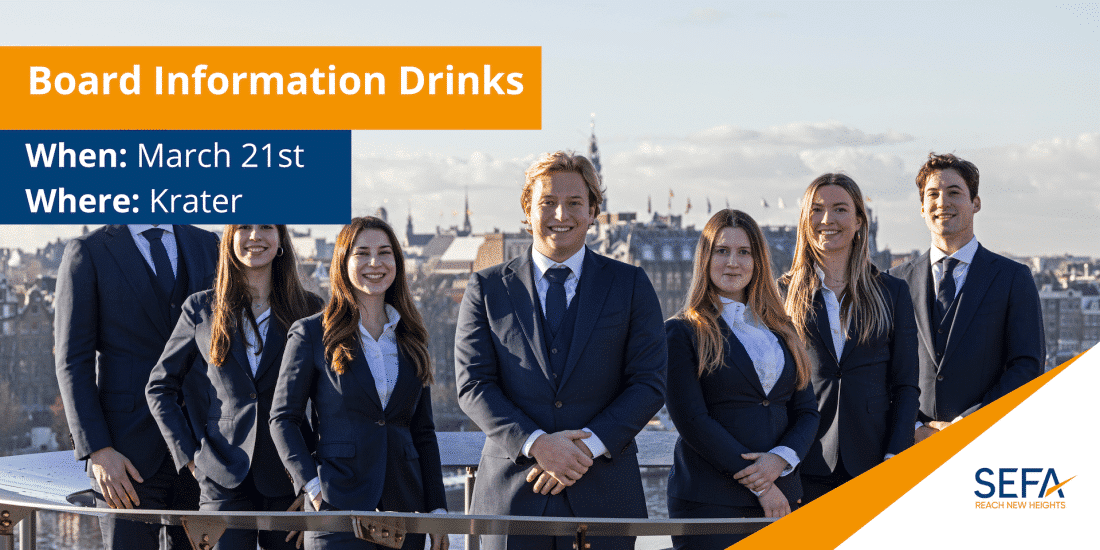 Do you think you can manage one of the largest study associations in the Netherlands? Can you lead an organization with 7000 members, 400 active members, 250 company contacts, and more than 125 events yearly? Do you want to become the 102nd board of Sefa?
During a board year, you will be working full-time in a team of highly motivated board members. Together you are responsible for the (long-term) strategy of Sefa, coordinating Sefa's committees and supervising Sefa's events.
On the 21st of March, you are welcome to join our information session. We will give you all the information about a board year at Sefa! You can ask all your questions and meet the current board during this session.
It doesn't matter if you are not familiar with Sefa yet, or if you are not well informed about the association. Whether you are a former active member or someone totally new to Sefa: we are looking forward to meeting you!
Please get your ticket on the right, to receive a reminder on the day of the information session!
For more information about a board year or a personal call with a board member, visit the board page!