[Canceled] Borrelmaand: Themed Party "007"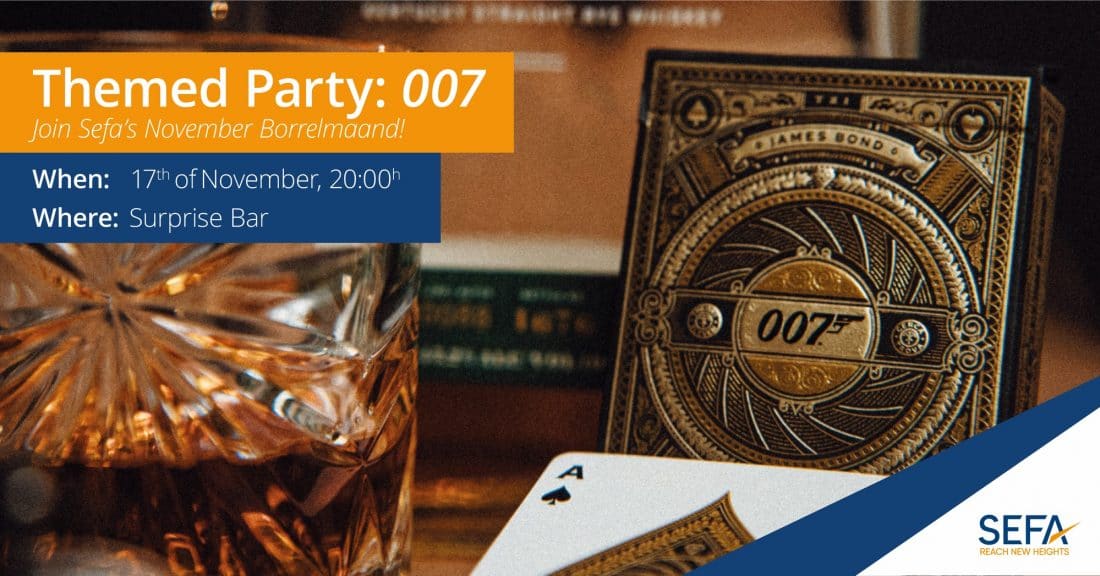 Update 15/11/2021: Unfortunately the event is canceled due to the announcement of new Covid-19 measurements. We hope to organize a similar event in the future but for now, we wish everyone a safe and sound period. 
Ladies and gentlemen, our Borrelmaand continues … Want to enjoy a nice party to give you a boost for your exams next week? This is your chance! Get ready to put on your best suit or dress and join us for a James Bond-themed party at Surprise Bar on the 17th of November from 8 pm! This is THE opportunity to solve Sefa's romantic crimes with Gift. See you there!
There is a maximum capacity, but you are not required to buy a ticket. First come first serve!
Please stay home in case of:
Coughing or sneezing
Fever
Shortness of breath
If you feel you have been exposed to the virus
Please read the communications updates carefully through our website as well as on Instagram (@sefa_amsterdam). In case you have any remaining questions, don't hesitate to contact us at info@sefa.nl.