IESE Business Case Discussion – Spotify: Face the music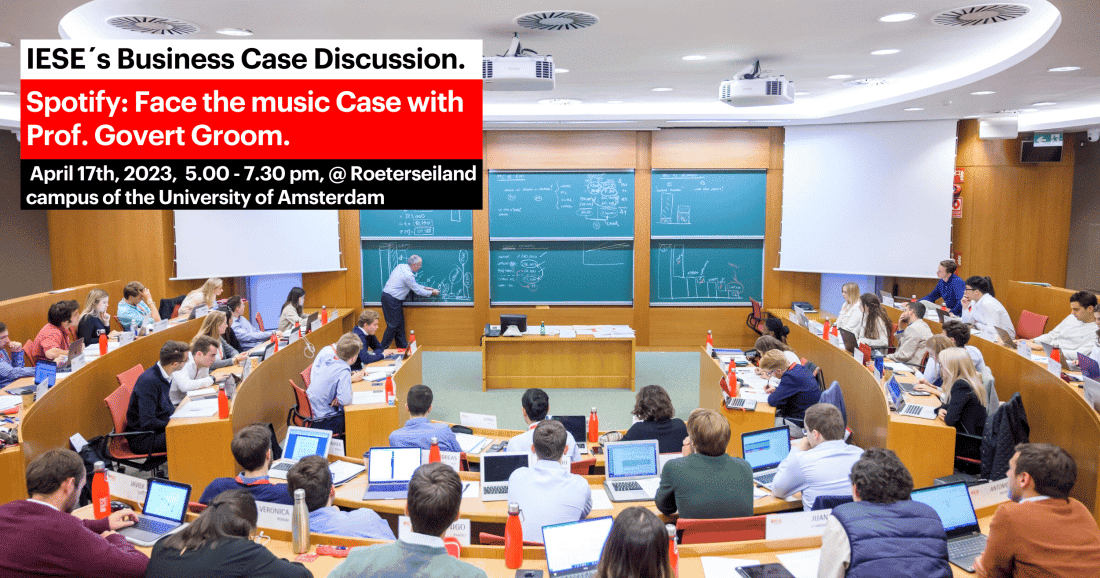 Business Case Discussion
Monday, April 17th, @ 5.00 pm – 7.30pm
Are you ready to learn how the Case Methodology works?
Recently IESE´s MBA has been ranked nº 3 in the world according to Financial Times, that is -among other things- thanks to the Case Methodology implemented in all of our programs.
Be an IESE student for the day and join us in our Business Case Discussion. Experience first-hand the renowned Case Study Methodology, see for yourself how IESE Business School teaches leadership, entrepeneurship, decision-making, and general management skills. You will also be able to network with Alumni. Ask them anything and get their honest feedback about IESE and their career paths.
About IESE: 
At IESE, the business school of the University of Navarra, we are committed to developing business leaders who strive to make a deep, positive and lasting impact on the people, companies and societies they serve.
Since 1958, more than 50,000 executives from all over the world have experienced our integrative, people-centered and socially responsible approach to decision-making in business and organizations.
Our programs are transformative journeys towards personal and professional growth. Our professors, your advisors and partners, are active at the highest levels of business and academia. You will feel challenged by their rigorous research and state-of-the-art teaching methodologies.
We are truly global. Our unique reach goes beyond our five international campuses and more than 50 academic alliances with top universities. In our classrooms you will find the brightest talent from over 130 nations. And you will enter our community of thousands of alumni, friends and partner companies present on every continent, in every industry and at every stage of life.
We stand on the solid pillars of Christian humanism. We believe in the rights and dignity of every person. We believe in the individual as a force for change. We believe in good will, in giving your best, in helping society through your work. We strive to develop effective managers, responsible leaders and better people.