Info session Case Solvers & Research Consultants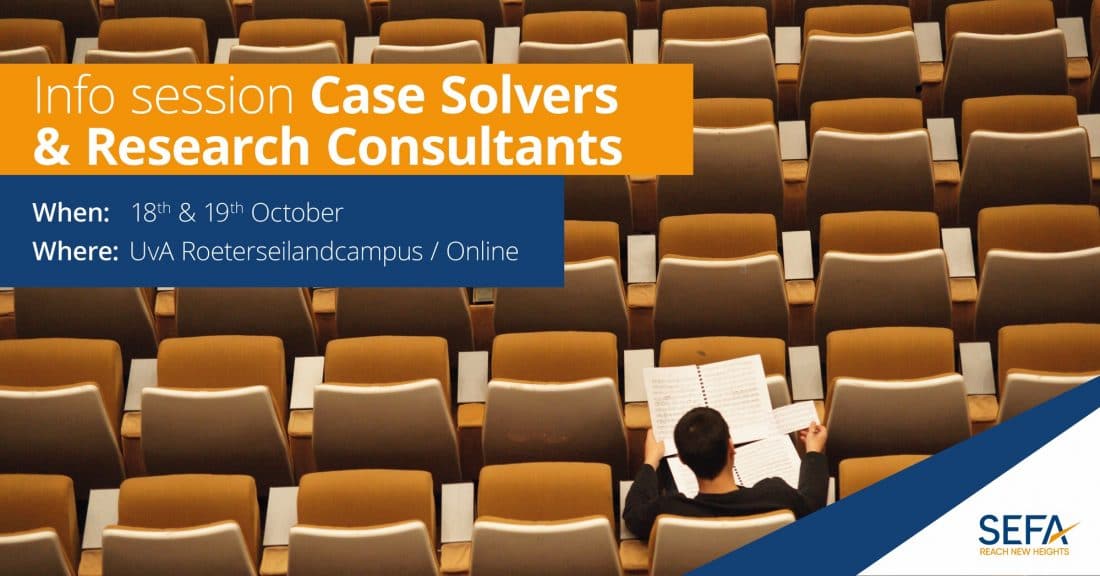 Sign up for one of our information sessions at the bottom of this page! 
Sefa is recruiting for the following 2 committees:
Sefa Case Club
The Sefa Case Club attempts to bridge academic theory and practical exercise. It prepares EB students for international case competitions. We organise multiple internal case competitions, during which you practice problem-solving skills. Members who demonstrate excellent case-solving skills can be selected to represent the Case Club at international competitions. There will be bi-weekly trainings and internal case competitions.
Students that are in the Sefa Case Club committee can participate in some of the most prestigious international case competitions all over the world. Case solvers are trained to solve real-life business cases in groups of ambitious students and present their solutions to a panel of academic staff, consultants and industry professionals.
At the moment we are looking for (25x) enthusiastic 2nd- or 3rd-year EB students who are interested in the world of (international) case competitions and consultancy! If you feel attracted to become a case solver join one of the following information sessions:
Offline: Information drink @ REC Roeterseilandcampus (CREA Cafe) , 18th October 18:00-20:00
Online: Zoom information session @ Online, 19th October 18:00-19:00
Sefa Research Project
In the summer of 2022, a group of 16 highly motivated and ambitious students will fly to TBA for four weeks of field research aligned with the needs of the companies. These companies – four in total – are acquired by the students beforehand. When the acquisition is finished, the students carry out desk research in the Netherlands and prepare themselves for field research with both academic and professional support. Highly-placed professors of the UvA will give advice during the preparation and strategy consulting companies, such as BCG and Deloitte, will give trainings on the implementation of market research.
After successfully conducting research in India, Argentina, Indonesia, Brazil, the Philippines, Chile and China, Spain and Portugal. The location for Sefa Research Project 2022 will be announced before the 22nd of October!
The Sefa Research Project offers tailor made research to companies with aspirations in emerging economies, all below cost-price!
We are looking for (12x) 3rd year Bachelor and Master students to become a student consultant. As a student consultant, you are doing acquisition to convince companies to participate in the project. You will be writing research proposals and have company visits. Interested? Join one of the following information sessions:
Online: Zoom Information session @ Online, 18th October 18:00-19:00
Offline Information drink @ REC Roeterseilandcampus (CREA Cafe), 19th October 18:00-20:00
Information Session Case Solvers & Research Consultants