Information session Study Trip 2022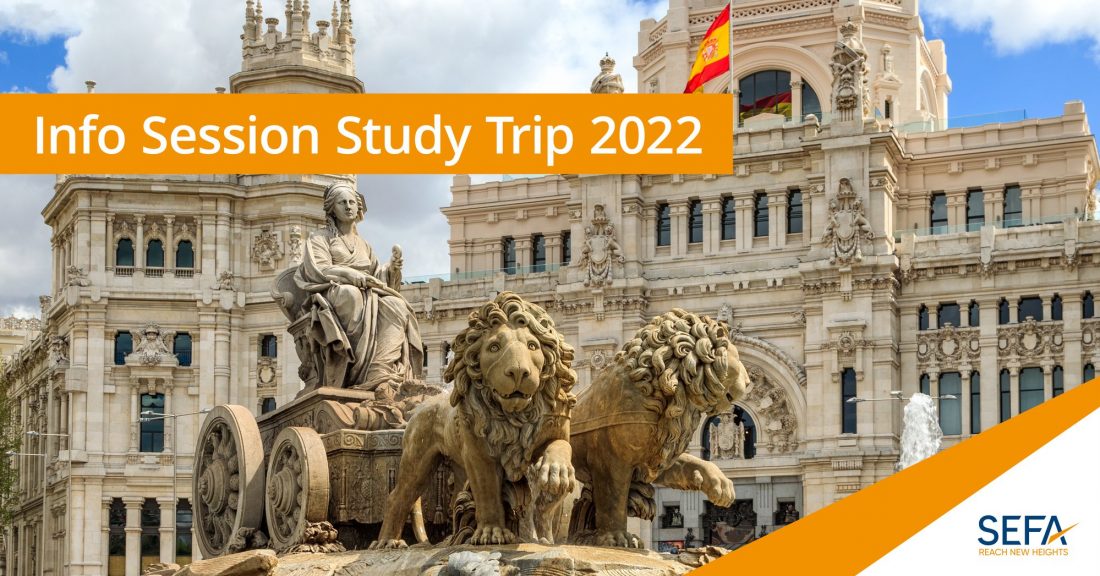 Sefa Study Trip is finally going abroad again after two years! From April 2nd to April 10th we'll be organizing an international business trip to Madrid. This 8-day trip will be a memorable experience, including interactive company visits, engaging activities and fun club nights, that you will never forget!
You will have the opportunity to exchange academic knowledge in an environment driven by global change for which we have prepared business case studies, workshops and presentations from international companies. So, are you ready to explore your professional work side, meeting new people while exploring the vibrant city of Madrid?
If interested, join our information session Wednesday the 19th at 17:00, to get more details about the trip! Sign up now
Link to the session: https://teams.microsoft.com/l/meetup-join/19%3aYhLS2FYNHm9bHmeqUfc8S4JJXkHDXPHJ_37HHZ8yRH41%40thread.tacv2/1642599019874?context=%7b%22Tid%22%3a%22a0f1cacd-618c-4403-b945-76fb3d6874e5%22%2c%22Oid%22%3a%2278a7f797-b188-423a-b1a3-77b05f78e014%22%7d