Meet the KPMG Global Strategy Group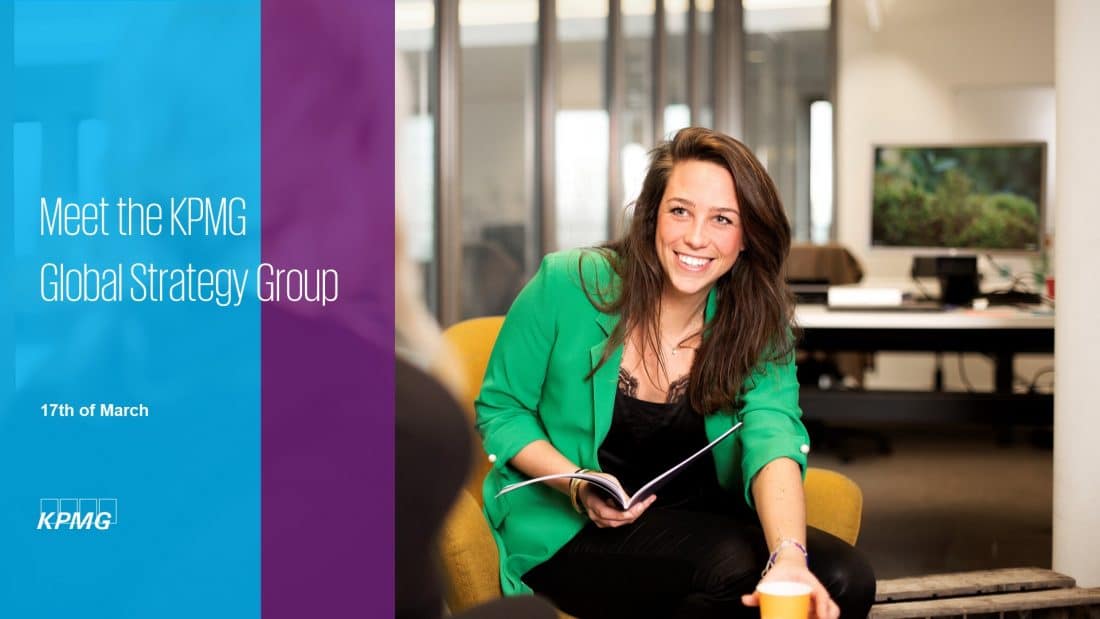 Do you want to know more about KPMG Global Strategy Group, the strategy consulting practice of KPMG and its different teams? During this webinar you will get the opportunity to experience first-hand the culture at KPMG and get to know more about the life as a Consultant. Are you in? We hope to see you there!
Deadline to apply: 11th of March, 23.59h.
The Global Strategy Group
KPMG Global Strategy Group is a global practice focused on Strategy through Execution. We support organizations and executive teams in defining their ambition and developing innovative strategies that embed the agility, customer-centricity and operational excellence needed to thrive in dynamic markets. The KPMG Global Strategy Group has a network of 2,500 strategy professionals focused on Deal-, Business model-, and Operating-strategy. During this webinar, a few KPMG employees who work within our KPMG Global Strategy Group (GSG) will inform you and take you into their daily activities and projects. We will have the opportunity to meet each other through various break-out rooms and we will tell you more about life as a Consultant at GSG.
Are you and KPMG the perfect match?
Are you a student or young professional with a strong academic track record, preferably in (but not limited to) the direction of Finance, Business Administration, Engineering, Mathematics, Physics or any other technical/financial study?
Do you also have excellent social and analytical skills combined with professional curiosity? And do you enjoy working on complex issues? Then we would like to get to know you!
Agenda of the day:
10.00 – 10.20h: Welcome KPMG Global Strategy Group and introduction of the different teams
10.20-11.35h: break-out rooms where you will get the opportunity to meet 3 of our teams:
Deal & Growth Strategy,
Operating strategy-Corporate Clients,
Operating strategy in Healthcare,
Operating strategy in the Financial Sector,
Operating strategy in the Public Sector, Customer & Brand Strategy.
Send us your 3 preference and, if you are selected, we will invite you to meet the teams matching the most your interests and most fitting to your CV.
Waarom je dit niet wilt missen
Why you should not miss this opportunity
It's a unique opportunity to learn more about KPMG and its Global Strategy Group.
Discover the different type of services we provide to clients around the world and get a sneak-peek on some of our latest projects.
You will get the opportunity to directly ask questions to Consultants in the teams.
Applications and more information
​​​​​​​​​​​​​​Do you want to be there? Then upload your CV and register by March 11th 23.59h at the latest! You will hear whether you have been selected on the 12th of March. Questions? Feel free to reach out to Edzard Krijgsheld via krijgsheld.edzard@kpmg.nl.