Sefa Career Week 2023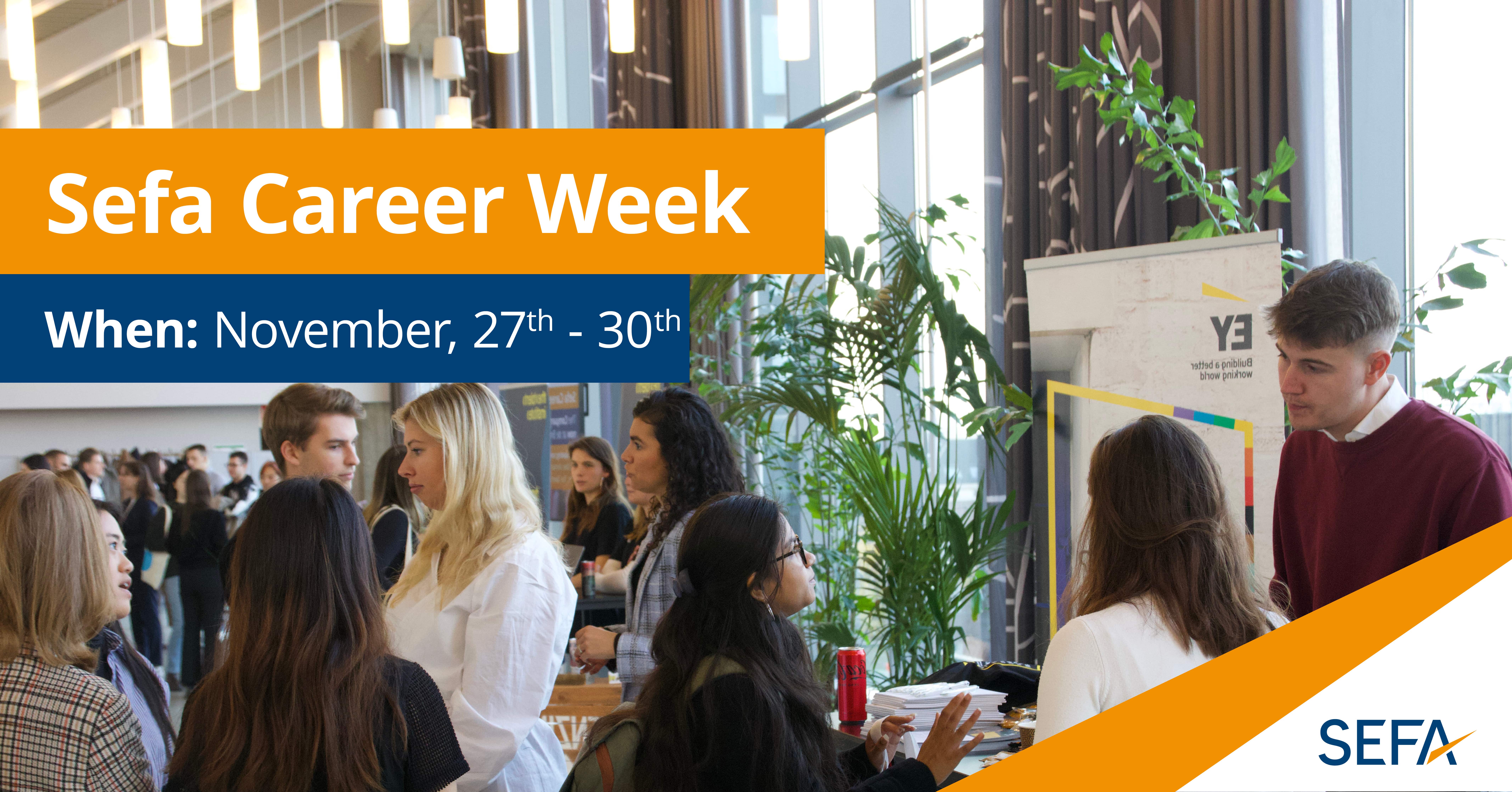 Register now on the Sefa Career Week website!
Sefa Career Week 2023 is the largest on-campus career event at the University of Amsterdam. This dynamic five-day experience is carefully curated to give students the opportunity to orientate themselves and progress towards their dream careers. This year, the event will be held from the 27th of November until the 1st of December 2023, offering students the opportunity to engage with prestigious corporations and innovative startups through a blend of formal and informal events covering a variety of themes: Economics & Finance, Consultancy & Audit, Business & Entrepreneurship, and Digital Business, AI, and Innovation. 
This weeklong journey is not merely about career exploration; it's a chance to network, learn, and grow. From captivating formal presentations to relaxed networking gatherings, participants can engage in conversations, gain insights, and forge connections that could shape their future careers.
Here's a glimpse of what awaits you:
Company Dinner: Immerse yourself in this iconic event, where you'll enjoy a delightful meal while gaining deeper insights into the participating companies.
Speed Dating: This unique opportunity allows you to connect with recruiters in small, intimate groups. Tailored for students who are either career-oriented or already well-informed about the companies, this session lets you ask targeted questions and receive personalized insights. 

Jeux de Boules Event: What could be more enjoyable than connecting with recruiters over a game of Jeux de Boules? Experience a relaxed atmosphere for engaging with recruiters, making it a timeless event for all generations.

Real-Life Business Case: Showcase your skills and knowledge through practical challenges and real-world business cases. Collaborate with motivated peers, impressing companies with your talent and problem-solving abilities. 
Whether it's a dinner discussion about your career aspirations or showcasing your professional skills through real-world cases, Sefa Career Week 2023 has it all. Register now on the Sefa Career Week website!