Sefa (Pre-) Master Welcome Drink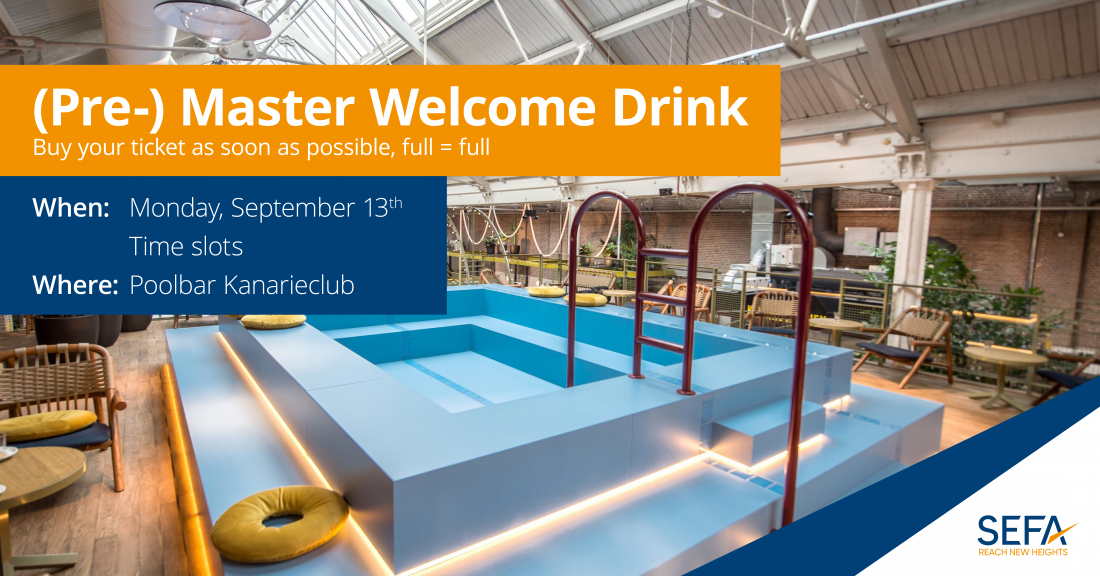 *This event is SOLD OUT*
The end of your academic career is almost in sight! Did you really think you can survive your Master's degree without joining Sefa? We don't think so! Join our Master Welcome Drink to become familiar with Sefa and its committees including Master Career Club, Research Project, International Development Project, Social Consulting Group, Speaker Event and much more. During the Master Welcome Drink you will get to know the Study Association Sefa in the enjoyment of a cold beverage.
Sefa's Master Welcome Drink, the drink that gets you on the go!
We hope to see you on Monday the 13th of September at the Kanarie Club Pool Bar.
Please select one of the following shifts during checkout (full = full):
14:30 – 16:00 SOLD OUT
16:15 – 17:45 SOLD OUT
18:00 – 19:30 SOLD OUT
19:45 – 21:15 SOLD OUT
21:30 – 23:00 SOLD OUT
Please stay home in case of:
Coughing or sneezing
Fever
Shortness of breath
If you feel you have been exposed to the virus
And keep in mind to:
Maintain at least 1,5 meter (5 feet) distance between yourself and anyone who is coughing or sneezing
Follow the advice of the World Health Organization and the RIVM regarding personal hygiene
Please read the communications updates carefully. In case you have any remaining questions, don't hesitate to contact us at info@sefa.nl.