Sefa Wintersports 2022 Waitinglist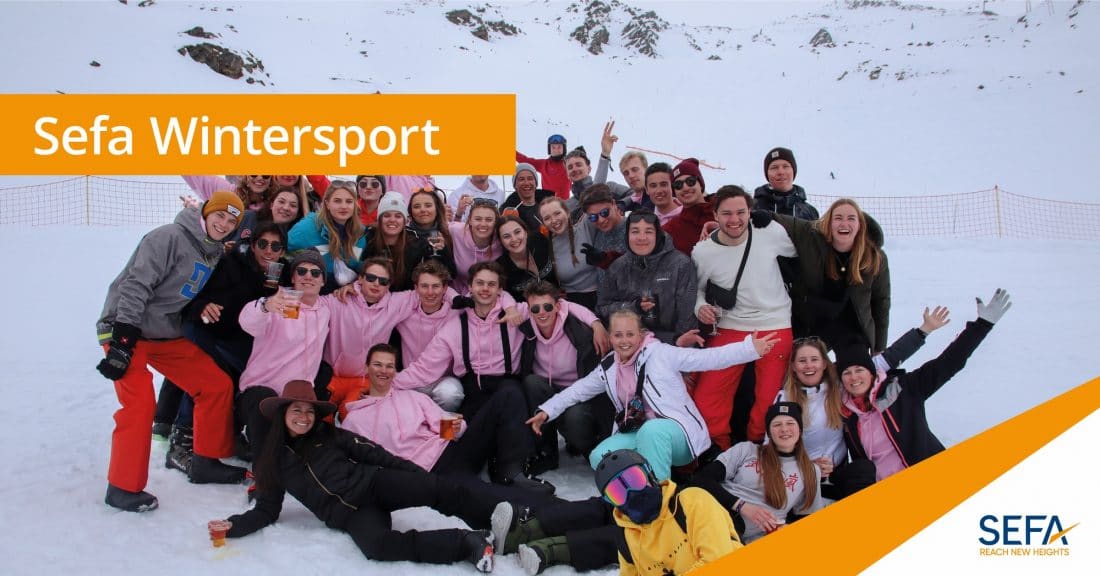 Are you still not over the fact that we couldn't go on our annual Sefa Wintersports last year?  Well, you better rub off the dust from your skiing gear and get ready to join us for 8 days of pure fun in Les Deux Alpes! 
With a group of Sefa active members, we will head to the French alps from the 11th until the 20th of March. It is going to be one of the most exciting trips that you will ever experience during your student life: skiing the whole day, partying at night, and enjoying the sunny days that March has to offer! All this, with your best friends and fellow students! Even if you sign up by yourself, you will have ZERO problems meeting new people, that's an absolute guarantee! 
Practical information
Total duration of the trip: 11th of March – 20th of March. 
Departure from Amsterdam (by bus): Afternoon of the 11th of March. Arrival the morning after in Les Deux Alpes 

Return from Les Deux Alpes (by bus): Afternoon of the 19th of March. Arrival the morning after in Amsterdam. 
Price: from €559.00
What's included in the price?
Transportation by coach 

Accommodation (Residence Aiguille Lodge10, Les Deux Alpes)

6 day ski pass Les Deux Alpes 

Activities organized during the trip

Wintersport Sefa hoodie
What's excluded? (that can be bought through the Skifest portal) 
Skiing/snowboard gear (ski, snowboard, sticks, boots, helmet, etc.). Depending on what you need the price can vary from €70 to €140 extra. 

Skiing/snowboard lessons. These will cost from €85 to €200 extra, depending on how many hours and from your current level. 

Towels/bed linen. 

Cancellation insurance all risk (€48.09)
How to sign up and when? 
First, you sign-up through the Sefa website. The registration will open for Active Sefa Members on the 14th of January, 17:00. There are limited spots, so be sure to act fast! If there are still spots left, non-Active Sefa members can sign up from the 17th of January, 17:00. If the event is sold out, we will open a waiting list. At this point, you also immediately indicate the size of your hoodie. After signing up on the Sefa website the Winterport committee will reach out to you within a couple of days and you will be sent a link to the Skifest portal in which you complete your registration, add any extras, and make the payment. 
Important information about Covid-19 and Insurance
Covid regulations*
In line with the current French regulations, it will be possible to join the trip given the following conditions, valid at the time of the trip:
You have recently recovered from Covid over the last 180 days (6 months)

or

You have received your second vaccination during the last 7 months

or

You have received your third ("booster") vaccination

or

You have had covid more than 6 months ago and you have had one vaccination during the last 7 months. 
The French government has recently announced that a negative test cannot be used to receive a "corona pass", which is needed to access, among others, ski lifts, hotels, and restaurants. Therefore, people that do not meet the recovery/vaccination status will not be able to sign up and join the trip. Unfortunately, this is something that is outside of our control. Make sure to check carefully that you meet the requirements! 
For more information please consult the latest update of the following website (only available in Dutch). Or, for information in English, on this website by the French government. 
*Keep in mind that this information is subject to changes in the Covid regulation on location. 
Insurance
All individuals are responsible for their own insurance coverage in case of cancellation. With Skifest, it will be possible to buy the cancellation insurance "All-risk" (€48.09). We strongly advise you to buy this extra option in order to have protection in case you test positive before the trip or you can't join the trip for any other reason. 
What does this insurance cover?
100% reimbursement of the price if you cancel because of covid related issues (quarantine, tested positive, etc.)

75% reimbursement of the price if you cancel the trip for any other reason: also if you don't have a "valid" justification.
More questions? 
Feel free to reach out to wintersport@sefa.nl if you have remaining questions with regards to Sefa Wintersports trip.