Sefa x IE – Leading Through Innovation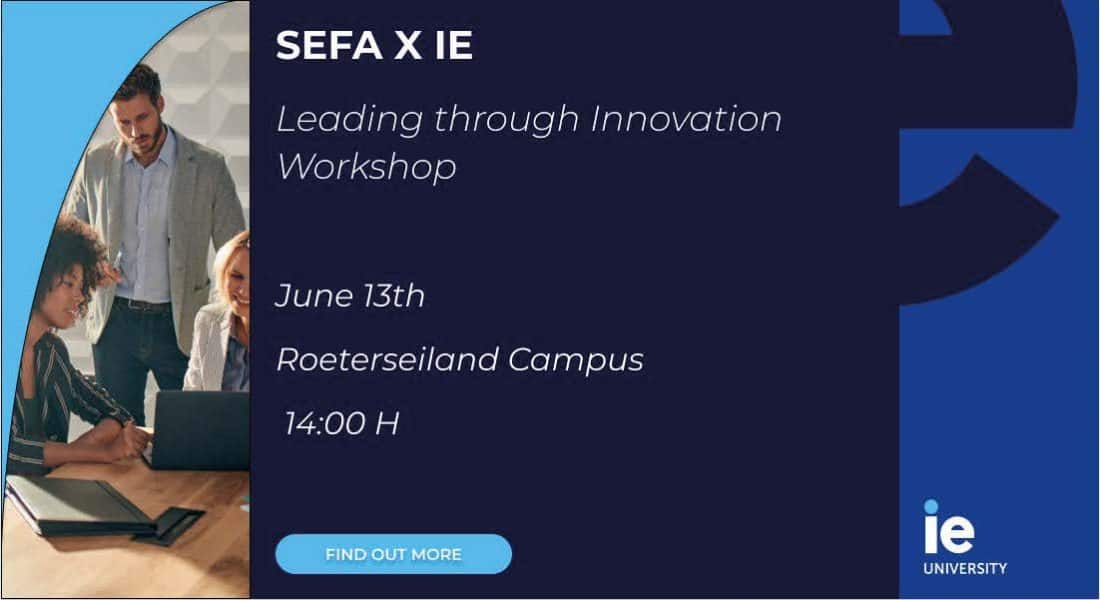 About IE University
IE University is a place for forward-thinking visionaries to learn in a transformative environment. Immerse yourself in a supportive community of students and faculty who interact together with new ideas and approaches to fuel the innovative learning process.
This diverse, dynamic hub consists of an average of 130 different countries represented on campus each year, with over 75% of its students coming from outside Spain.
We pride ourselves on our innovative vision and entrepreneurial spirit, fueled by academic rigor and a strong focus on the humanities. Our practice-based approach goes beyond the classroom walls, taking our students to the frontlines of their respective fields.
IE University is more than just an education. It's a complete academic and professional experience that broadens horizons, connects the world and provides students with a personalized career path to help them achieve their goals.
RECOGNITION AND RANKINGS
IE University proudly boasts its top rankings by some of the most prestigious associations in their respected fields. Each discipline is also highly regarded amongst employers from some of the world's largest corporations.
5th
UNIVERSITY WORLDWIDE
QS WUR International students ranking 2023
19th
UNIVERSITY WORLDWIDE
THE Global Employability ranking 2021
29th
UNIVERSITY WORLDWIDE
THE Impact ranking: Reducing Inequalities
Leading Through Innovation: Attitude for Success/ Entrepreneurship
This dynamic Workshop deals with how to create an Innovation Culture in any organization using soft and hard skills, frameworks, and values. It also touches on Mega Trends and invites the audience to make change happen now. This is done in a very interactive style as employed at IE, with the majority of faculty being entrepreneurs and business leaders with real-world experience. We will look at case studies and challenge participants to design think solutions working in groups. Participants will finish the session with the mindset, behaviors, and tools to create value immediately. The professor – Balvinder Singh Powar – is a successful entrepreneur, mentor, and author himself. As Gandhi said: "Let´s Be the Change!
Time schedule:
14:00 – 15:30 Workshop by Professor Powar + Q&A
15:30 – 16:30 Networking Drinks
Professor Powar
Prof. Powar is a Business & Finance graduate who also studied a Masters in Mediation from the University of London. He has extensive experience leading business, social, cultural, media, and technology projects not only in Spain but internationally. His main skills include communications (internal and external), creative & strategic input, business development & senior management, team leadership, relationship management & business mediation.
Currently, he is a Founding Partner, Board Member, and Director at BOOSTER Space Industries and AERDRON, innovative international Aerospace projects/consultancies with important stakeholders globally. He is also an Adjunct Professor and Business Mentor at IE and a qualified and experienced trainer, giving sessions on Leadership, Team Management, and Motivation, Innovation Culture, Mediation/Conflict Resolution Skills, Entrepreneurship, and the New Commercial Space Industry. He also advises many Innovation Projects Globally.