Sefa Investment Days 2021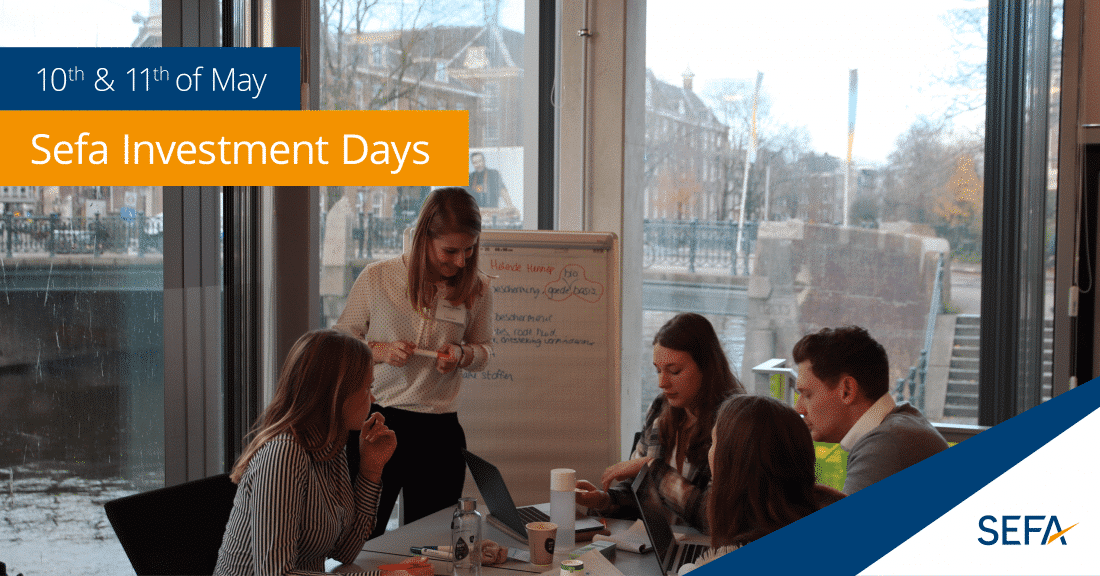 Do you want to learn more about investing? Do you want to know about the world of finance? Join us on the 10th and 11th of May at the Sefa Investment Days 2021 to explore your interests in Finance and Investing!
For two days, firms operating in corporate finance, trading, brokerage, and real estate will host cases, workshops, and presentations to give you an impression of the work they do. This way, you gain a unique insight into the day-to-day at firms such as ING or FlowTraders. We will finish the event with a networking drink where you get to connect with recruiters and students in an informal setting.
At the end of each event day, we host a fun networking activity. We invite all participants to pour themselves a glass and join the networking drink. During the networking drink, every participating company has its own online meeting room which you can join to meet the recruiters in a more personal and informal setting.
You have the flexibility to choose which companies you want to talk with, and you will be able to switch between rooms at any time. So, if there are particular people or companies that caught your interest during the workshops, presentations, lunches, and cases then the networking drink is your chance to connect!
Monday 10th of May
Lynx: Presentation on how to start investing
Grant Thornton: Workshop in Mergers & Acquisition (M&A)
Annexum: Lunch with real estate firm
Da Vinci Derivatives: Case in derivatives trading
Tuesday 11th of May
ING: Workshop in Equity Capital Markets
FlowTraders: Workshop in market making
NPEX: Presentation on how exchanges work
Van Lanschot Kempen: Lunch with multiple divisions
STX Group: Workshop with commodity broker
Sign up now!
Monday 10th of May
Since 2006 LYNX has been active as an online broker with two importants key points: very low fees and an extensive product portfolio. This combination has made LYNX successful in The Netherlands, but also abroad. The online broker has grown into a well-established European broker which offers its services in ten different countries. Thanks to its low fees, extensive product portfolio, educational program and fast and reliable trading platform, LYNX is now known as the broker for the active investor who takes investing seriously.
Grant Thornton in Nederland is een middelgrote accountants- en adviesorganisatie met bijna 600 collega's. Groeiend en met een eigen herkenbare positie in de markt. Grant Thornton is de nummer 5 accountancy- en adviesorganisatie wereldwijd met 56.000 collega's in meer dan 140 landen. We onderscheiden vier service lines: Assurance, General Practice, Specialist Advisory en Specialist Tax.
Initiatief nemen wordt beloond. Durf met nieuwe ideeën te komen en vragen te stellen. Dankzij jouw nieuwsgierige, maar ook kritische blik, leer jij niet alleen van je collega's, maar je collega's ook van jou.
We werken met kleine, wisselende teams, op deze manier werk je met iedereen samen: van partner tot junior. Iedereen is ambitieus en enthousiast. We gaan er echt samen voor.
Binnen Grant Thornton bieden wij de mogelijkheid tot het schrijven van de bachelor- en/of masterscriptie (scriptiestage). Daarnaast hebben wij ook ruimte voor werkstudentschappen en hebben we verschillende startersfuncties binnen bijvoorbeeld Advisory. Zo kun je beginnen in het M&A team, maar ook bij Valuations of Transaction Services. Daarnaast hebben we ook een team dat zich bezighoud met duurzaamheidsvraagstukken.
Wij zijn benieuwd naar jouw talent, jij ook naar ons?
Annexum bestaat sinds 2000 en biedt de particuliere belegger mogelijkheden om te beleggen in vastgoed. Annexum structureert, acquireert en beheert diverse vastgoedbeleggingsobjecten, al 20 jaar. Supermarktvastgoed, woningvastgoed, kantorenvastgoed, met 22 beleggingsfondsen en een belegd vermogen van 1,1 miljard euro bieden wij investeerders het vastgoed dat past bij hun beleggingsvoorkeur en vermogen.
De door Annexum geselecteerde vastgoedobjecten bevinden zich op goede locaties met kwalitatief goede huurders. Met onze persoonlijke dienstverlening en uitgebreide kennis van de vastgoedmarkt zorgen wij dat het optimale uit de beleggingen wordt gehaald.
Da Vinci Derivatives was founded in 2015 by a group of young trading professionals and has since been growing successfully. With our own capital and sound risk awareness we trade listed derivatives on markets globally. We identify opportunities and trade based on in-house developed strategies, and we provide liquidity and efficiency to the markets.
Our philosophy towards work is best captured by the saying "Be good, work hard and great things will happen".
We are meritocratic by nature and believe that empowering talent in our organization is the only way forward. We aim at attracting the most qualified people in the industry, train them, provide them with all the required tools, continuously challenge them and allow them to grow both professionally and personally.
Our business is highly innovative, IT driven and entrepreneurial by nature. Our goal is to become the best trading company in the world!
We are continuously looking for talented graduates with an academic technical background such as econometrics. If you like games and puzzles and are fascinated by the financial markets, take up the challenge and join our team! Visit our website to learn more about Da Vinci Derivatives and our career opportunities: https://davinciderivatives.com/
Tuesday 11th of May
The ING Equity Capital Markets team advises and assists clients in raising equity capital on local and international stock exchanges. We offer a wide range of activities, including transaction structuring, preparation and coordination as well as marketing and distributing shares to investors globally.
Our team has a strong track record of assisting and advising public and private companies, local and international financial sponsors and governments in structuring and executing a wide variety of equity and equity-linked transactions, such as initial public offerings, rights issues, accelerated bookbuild offerings, secondary offerings of existing shares/block trades, and convertible bonds. Furthermore, we have comprehensive experience in advising on preference shares as well as providing strategic advice on shareholder remuneration, including the execution of share buybacks, stake building and shareholder communication.
We have a leading position in Benelux Equity Capital Markets with more Global Coordinator and Bookrunner roles than any other domestic or international investment bank. In addition, we have been recognised locally and internationally for our award-winning brokerage approach. On the back of our strong global presence and platform, we continue to invest in our European and global Equity Capital Markets footprint resulting in a continuously growing involvement in non-Benelux transactions.
Offices: Amsterdam (headquarters), New York, Singapore, Hong Kong, London, Milan and Cluj
Number of employees: 550+
Flow Traders is a principal trading firm founded in 2004. We are a leading global technology-enabled liquidity provider, specialized in Exchange Traded Products (ETPs). Flow Traders is at the intersection of finance, cutting-edge technology and scientific research. We are able to grow our organization further, thereby ensuring that our trading desks in Europe, the Americas and Asia provide liquidity across all major exchanges, globally, 24 hours a day. Financial markets have rapidly shifted from trading in the pit to algorithmic trading, and our business model has made us an entrepreneurial and competitive firm in the FinTech space. We use our principal technology platform to quote bid and ask prices in thousands of ETP listings. We are also active in other asset classes such as bonds, FX, cryptocurrencies and similar financial products. On top of that, we provide liquidity to institutional counterparties off-exchange across all regions!
Flow Traders stays ahead of the competition by focusing on technology and niche competencies in markets where every second counts. This requires access to the best information and the ability to respond instantly. To achieve this, our team of software developers works in partnership with experienced traders to identify and execute tomorrow's strategies, making Flow a daily pioneer in professional trading.
If you would like to know more feel free to contact Florentine van Lingen (Recruiter) fvanlingen@flowtraders.com or Charlotte Uljee (Recruiter) culjee@flowtraders.com
NPEX is a regulated supervised stock exchange and brings entrepreneurs and (institutional) investors together for financing and investment returns.
NPEX is a supervised MTF for trading SME. Various securities are traded continuously via an order-driven system. We secure an independently prepared rating, due diligence and prospectus for full transparency. By investing in these SME companies you as an investor can realize a good return. The NPEX team consists of experienced and motivated specialists and is located in the WTC in The Hague. We offer the following benefits:
Direct investments in small-medium sized companies

Diverse range of investment products; shares, bonds, funds and warrants

Daily settlement. Depot Euroclear

Continues trading from 10am-4pm

Interest on bonds between 5-10%

Independent admission process and expert assessment

Access to extensive & comprehensible information

An investment firm with a MTF license under the ongoing supervision of the AFM and DNB
https://content.mtsprout.nl/whitepaper-5-redenen-om-te-beleggen-in-nederlandse-groeibedrijven
Van Lanschot Kempen is a specialist, independent wealth manager dedicated to the creation and preservation of your wealth.
So far, we have accumulated nearly four centuries of exceptional dedication and financial craftsmanship for the benefit of our clients' progress. Our clients are VIPs to us. They are good people who know their business. As wealth managers, our purpose in life is to contribute to the achievement of our clients' commercial, personal, and social goals. Our strength lies in the three strong and robust brands we can rely on: Van Lanschot, Evi, and Kempen, and the wide array of expertise and experience we have in our core activities.
We are the challenger on the market, responding rapidly, intelligently and proactively to market developments in order to stay ahead of the competition. We build long-term relationships based on mutual trust and a shared objective of delivering stellar investment returns for our clients. That is why we do not stop at meeting client expectations; we want to exceed them. Our goal is to ensure that our brand is synonymous to top quality, excellent advice, and bespoke solutions. People with an entrepreneurial spirit and an unwavering passion for their work can expect to be given every opportunity within our company. This is where the magic happens!
STX is a market maker in environmental commodities and hence provides market access and liquidity in both liquid and illiquid commodities like renewable energy, biofuels, energy efficiency and carbon markets.
From STX' offices in Amsterdam, New York and Gothenburg, their professionals consult globally with clients in their own language.