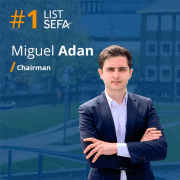 Miguel Adan Marquez-  List Sefa Chairman
Hey! My name is Miguel Adan Marquez, and I'm List Sefa's Chairman and #1 candidate for the upcoming FEB elections! 
Originally from northern Spain, I've lived most of my life in Finland. I am currently a second-year EBE student majoring in Economics.
I got involved in this project to fight for student's interests during these hard times, while helping ensure that our return to on-campus education is as smooth and fruitful as possible. 
On behalf of the whole List Sefa team, I hope our campaign and ideas convince you to entrust us with your vote.
Leon Steinkeller – Secretary & Treasurer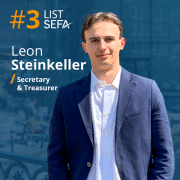 Dear fellow students, my name is Leon Steinkeller and I'm a 2nd year EBE student from Italy.
The past year has been very difficult for all of us and, although our university has tried its best, many shortcomings and deficiencies have emerged. For this reason, I have decided to stand as a candidate for the FSR elections and I am looking forward to start a new period of reforms at our faculty. 
Hereby my main objectives are to guarantee to all students an easy and fast access to UvA's mental health services, to expand the extracurricular opportunities offered by UvA (e.g. free language courses) and to implement new green policies for our university. 
I believe that these reforms are possible and necessary, and I am sure that through hard work and by keeping a pragmatic approach we will together be able to fundamentally change our faculty!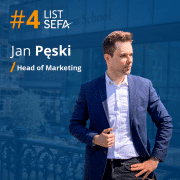 Jan Pęski – Head of Marketing
Hello! My name is Jan Pęski and I'm #4 candidate for List Sefa this year. I also hold the role of Head of Marketing. 
I'm a third year BA student and regardless of this busy time I decided to run for FEB Student Council! Why? Because I believe that with your help there is nothing we couldn't achieve together. And there is still a lot to achieve at the UvA.
I can't wait for you to see and discuss our programme which is full of exciting ideas.
More about me? I'm a 22 year-old Polish guy from the coastal area of the Baltic Sea. I love windsurfing, music and above all, serving the common good! I hope to see you on the journey!
Reka Buzássy – Marketing Support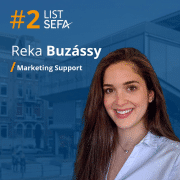 Hi! I'm Réka, a member of the Marketing Support team at List SEFA. 
 I am a 2nd year BA student from Hungary, and my passion for marketing brought me to the Committee. Joining the team was the perfect way to gain experience, meet new people and do this for a good cause. 
We can't wait to show you what we are capable of, to improve student experience at Uva. Together we can make a change!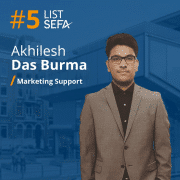 Akhilesh Das Burma – Marketing Support
Hey! My name is Akhilesh Das Burma, and I'm a 2nd-year EBE student at the UvA. 
I'm part of the Marketing Support Team for List Sefa and #5 candidate for the upcoming Student Council elections for the Economics and Business Faculty! 
My main objectives are to ensure that we have learned from this transition from physical education to an online learning environment, making sure that we implement the strong points and eliminate the inefficiencies, ending up with a Hybrid learning environment.
I would also like to improve on certain academic standards like getting rid of the guessing correction on mcq exams and the inclusion into dutch society. 
Being born in India but growing up in Switzerland and Malaysia has enabled me to gain an international outlook, allowing me to understand and cater to the needs of students originating from different nationalities and cultures
Muhammad Farhan  – Marketing Support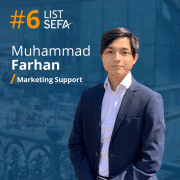 Hey guys! I'm Farhan and I'm a 2nd year Indonesian BA student. I'm part of marketing support for List SEFA and candidate #6 for the upcoming elections. 
We recognize the number of problems that students face, and it's our duty to provide the best environment for students to succeed in. Our policies tackle issues ranging from the problematic grading system, the lack of mental health support, and support for more inclusion. We hope that we can put these policies into practice along with your help!
Looking forward for the opportunity to implement real change for you, the students. Don't forget to vote and when you do #VoteOrange !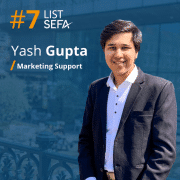 Yash Gupta – Marketing Support
Hii! My name is Yash Gupta and I'm a 1st-year Business Administration student. I'm at the position of marketing support for List Sefa and #7 candidate for the upcoming elections. 
I was born in India and have stayed there throughout my life. Being an international student my aim is to put forward the concerns of international students and represent them in the student council. 
I wanted to join the student council to not only represent the international students but also to ensure that all the students are aware about the different things they can do in the university. This would help students gain the maximum benefit out of their study at UvA. 
More about me, so I love watching cricket, talking to people, getting to know about different cultures, traveling to different cities and listening to good music. My enthusiasm about the elections makes me a trustworthy candidate!! 
Joaquin Ros – Marketing Support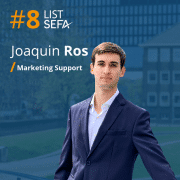 Hey there! My name is Joaquín Ros and I am part of the Marketing team and #8 candidate for List Sefa this year. 
I'm a Spanish second-year student of EBE majoring in Finance. I believe students should have the opportunity to voice their concerns and rely upon a team of diverse and highly motivated people to do so. As online education has shown, there is still a lot of room for improvement!
For this reason, we have carefully designed a well-rounded policy package that not only aims to respond to current issues, such as the cancellation of the student exchange, but also looks forward to a hopefully not too distant future where the pandemic will be finally behind us. 
At List Sefa, we make things happen.